Google Analytics is Changing
Google announced that Universal Analytics is getting replaced by Google Analytics 4 starting July 1, 2023.
For how often Google adjusts its search algorithm, it's been pretty hands-off when it comes to its core Analytics. In 2005, Google introduced its Analytics platform and that was untouched until Universal Analytics (UA) debuted in 2012.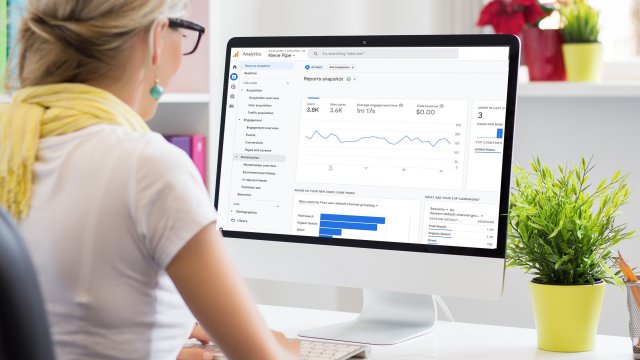 SEOs and marketers got comfortable using Universal Analytics for a while and then the search giant launched Google Analytics 4 (GA4) in the fall of 2020.
For the last two years, companies and digital marketing agencies have been able to run both UA and GA4 properties congruently and it's been a wonderful world of analyzing various Google stats. The countdown is on now, though, because as of July 2023, there will be no more Universal Analytics.
The UA property will stop collecting data entirely.
This is an exciting time, though, because there are some great new features for GA4. Also, this change isn't just for those in the SEO world. This will directly impact your business.
What is Google Analytics?
Google Analytics is a platform that collects website data to provide insights into your business. The goal of every version of Google Analytics is to help your business deliver a high-quality website to your customers.
How to Use Google Analytics to Improve Your Business
Being able to strategize and create innovative ideas after understanding analytical data is crucial for your business. Google Analytics provides companies with insights and tools to help boost ROI, increase traffic, and deliver a better user experience to your customers, prospects, and anyone else visiting your site.
Are there specific products or services on your site suddenly gaining significant traction? Notice a high rate of customer churn during a specific month? Getting a lot of traffic but very few conversions?
Google Analytics can help identify these trends and package them in a digestible, easy-to-understand way. After gathering and analyzing data for just a few months, you'll have a much better understanding of your client's behavior and how you can improve your web presence.
October, 2022 update: Google is pushing the sunset date of the enterprise version of Universal Analytics to July 1, 2024, giving enterprises more time to transition to Google Analytics 4.
GA4 vs Universal Analytics
Universal Analytics was great for the 2010s. But as the online world changed, the way we track and report on website analytics did, as well.
Here are some of the main benefits of the Google Analytics 4 Platform:
Tracking Engagement
For starters, GA4 is now all about engagement.
Google Analytics bounce rates will be a thing of the past after July 2023. It took some time to fully realize but having a bad bounce rate is not an indicator of a negative user experience. It makes sense for visitors to "bounce" and leave your website if they found the information they were looking for.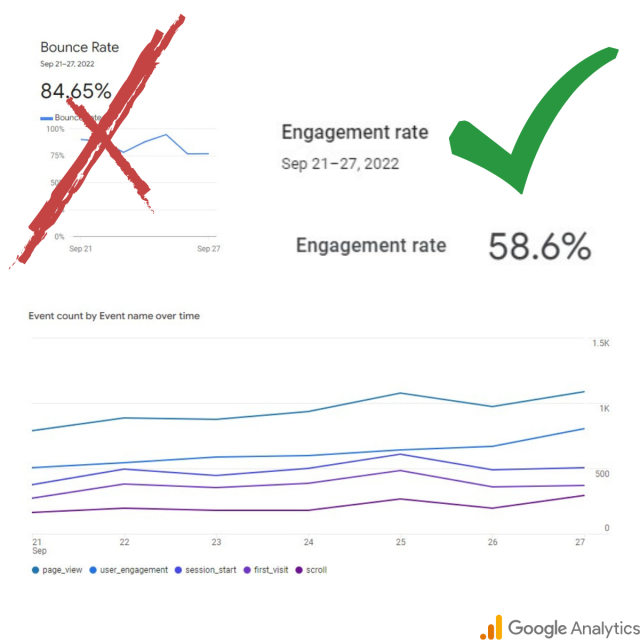 What matters is engagement, and the Google Analytics dashboard in GA4 has an easy-to-read Engagement overview to show exactly how your site and every page within is performing.
Cross-Device Capabilities
UA was designed to track desktop traffic, while GA4 provides companies with better visibility into their customer journeys across their entire website and apps. GA4's User-ID feature allows you to associate identifiers with specific users so you can connect their behavior on various devices and platforms, providing a much more accurate story about that user's relationship with your business.
Event-Based Model
UA is a session-based platform and requires advanced setups to track certain events like video plays, button clicks, and additional engagement acts. In GA4's event-based measurement model, all these interactions and more will fall under one category: events.
The following types of built-in events will be collected automatically:
first_visit – event collected the first time a user visits your website (called 'New Users' in GA4).
page_view – event used to report on the webpage the user is viewing.
session_start – event used to determine when a user's session began (a new event will trigger after 30 minutes of inactivity).
user_engagement – event reporting engagement rate when a visitor spends at least 10 seconds on your site.
GA4 has plenty of Enhanced and Custom Measurement events that can be easily collected, as well, including scrolls, outbound clicks, file downloads, video engagement, site searches, lead generations, purchases, item views, special offers, and so much more.
Machine Learning
UA data has relied heavily on cookies, GA4 does not. The internet will be cookie-less soon, making machine learning even more important to close the missing data gap. GA4 will automatically give you alerts to noteworthy data trends. For example, identifying changes in churn rate can provide valuable insight into your organization. GA4 calculates churn probability so you can be prepared and ready to invest in customer retention.
Here's a brief breakdown of the current GA4 Predictive Metrics:
Purchase Probability – the probability that a user who was active in the last 28 days will log a specific conversion event within the next 7 days.
Predicted Revenue – the revenue expected from all purchase conversions within the next 28 days from a user who was active in the last 28 days.
Churn Probability – the probability that a user who was active on your app or site within the last 7 days will not be active within the next 7 days.
Preventing Bot Traffic
Bot traffic is always annoying. No one likes finding 50,000 random site hits from thisisabotaurl.com when you're trying to gather legitimate business intelligence from your website analytics. Although in UA you can filter out bot traffic, you don't have to worry about it nearly as much with GA4.
With Google Analytics 4 properties, traffic from known bots and spiders is automatically excluded, ensuring your website data (to the best extent possible) does not include any events from known bots.
Custom Reporting
Both UA and GA4 provide real-time reporting, packaged into an easily digestible breakdown. However, GA4 offers access to much more interactive visuals, which can be used to dive deeper into certain event triggers.
Additionally, though the data you're tracking can be customized to fit your business needs, reporting is much more simplified with Google Analytics 4. There were 78 standard reports with Universal Analytics. GA4 cut that down to 19.
These improvements have given marketers and business owners increased customization capabilities across their website analytics.
July 2023 will come quickly. Make sure you're prepared. Make the switch to GA4 as soon as you can and connect with us today if you need any help or want to strengthen your SEO strategy!