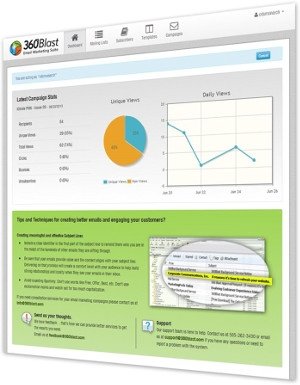 360Blast Email Marketing Suite
To meet the needs of a wide base of clients, we have developed and implemented our own custom integrated email marketing system. The 360Blast Email Marketing Suite allows our creative and technical teams maximum flexibility for integration and provides you with the functionality required to continuously improve your email marketing initiatives.
Corporate Communications' exclusive 360Blast Email Marketing Suite will put you in control to effectively connect with your existing customer base, target potential audiences, track new interest, communicate with partners and even keep in touch with your employees. Our straightforward, user-friendly system provides you with everything you need to manage your mailing lists and email marketing campaigns with ease. Your new email marketing system will be integrated into the CMS of your website and will give you the ability to:
Create and manage an unlimited number of subscribers & mailing lists
Consolidate and automate the management of your opt-in distribution lists
Easily edit text and images in just a few clicks
Create professional emails from custom HTML templates designed to match your new online identity/existing brand image.
Send an unlimited number of targeted emails
Promote your services, announce new products and specials, deliver internal communications and include share features for social media channels
Measure the success of your email campaigns
Track your campaign activity with real-time stats reporting features that provide valuable information such as views, clicks, bounces and unsubscribes
In addition to integrating the 360Blast Email Marketing Suite with your website CMS, we have the unique capability to integrate all types of online forms with opt-in features that collect contact information. This will automatically add the email addresses of subscribers to the appropriate mailing lists within the system. This additional level of integration will simplify the ongoing management of your mailing lists and help ensure the distribution lists opt-in/opt-out choices of your subscribers and are up-to-date and in compliance with the CAN/SPAM Act.
Most importantly, our creative team is always available to support your ongoing email marketing initiatives. From designing individual promotional banners and graphics or analyzing your campaigns to make recommendations for improving your open rates.
Ideas in Action: Related Articles