Corporate Communications established ourselves as the marketing partner for EkoStinger in early 2019, helping the transportation industry start-up accelerate market presence for aerodynamic products that challenge the status quo.
In 2021-22, EkoStinger invested in a major product evolution and desired a refreshed brand identity, reinvigorated website, and strategic digital marketing support. We stepped in and filled that critical role.
EkoStinger's old language focused on making a splash in the market and what's to come for trailer aerodynamics. Now, as an established and important player in the transportation industry, they've made that splash, and the new branding showcases their ability to innovate more than ever before.
Website

Brand Strategy

Email Marketing

Digital Advertising

Video

Print

SEO

Content Development

Social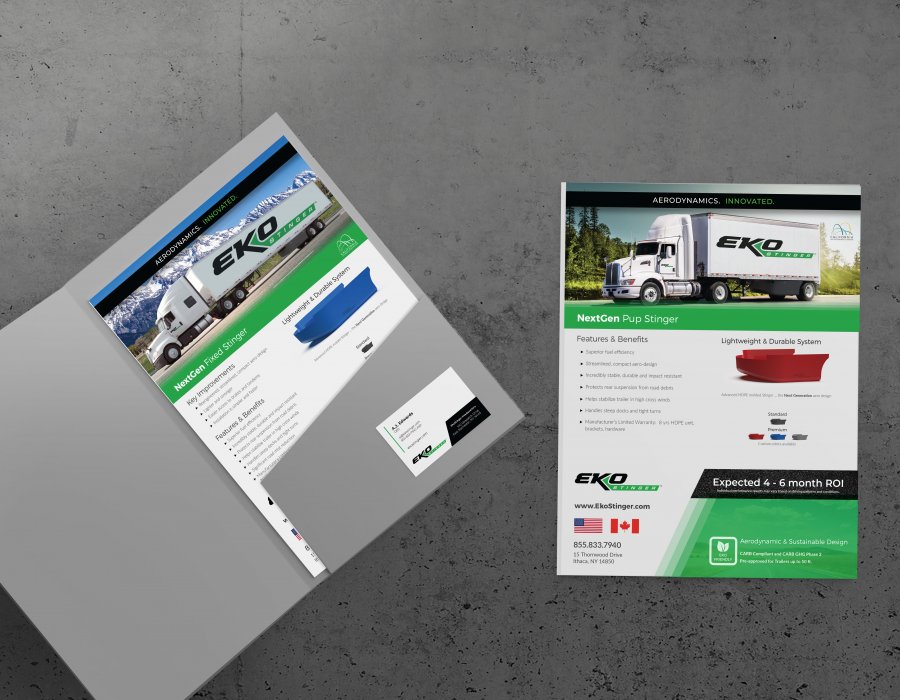 Aligning Marketing Plans With NextGen Strategy
Corp Comm developed and delivered a cross-channel marketing plan that perfectly aligned with EkoStinger's NextGen go-to-market strategy. We presented a strategic plan for a website redesign to align with updated business and marketing goals, improve user experience, and better represent their reputation within the transportation industry.
Featuring an upgraded color scheme, our creative team helped give the logo a refreshing new look and enhanced the rest of their digital and print materials. We worked together on rebranding key messaging, focusing on the Next Generation of fuel savings, aerodynamic engineering, and innovation.

Entire Website Redesign
Alongside the EkoStinger team, we worked to organize content, revise site architecture, and provide a remodeled online presence. They wanted the site's content to have an up-to-date and customer-focused look. We provided them with a fresh, new layout that focused on NextGen product highlights and an improved user flow.
EkoStinger's newly redesigned site is easily accessible from any device, looks great, and highlights the design, features, and benefits of the new product line.
We also continually monitor EkoStinger's SEO efforts and perform detailed keyword analysis to maximize site traffic. The EkoNews page can be easily updated with new keyword-rich content highlighting customer spotlights and testimonials, industry news, and fuel savings benefits of NextGen Stingers.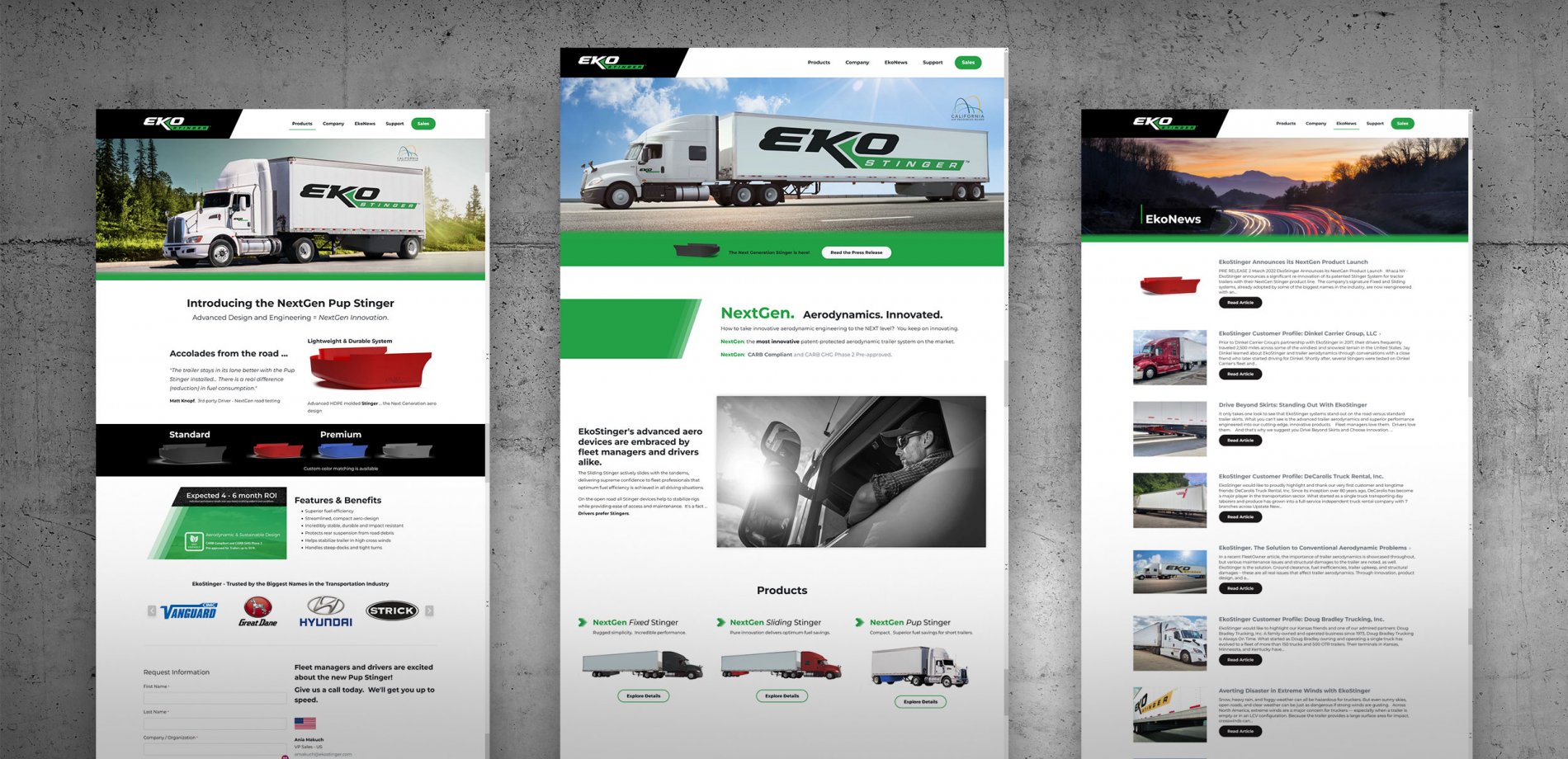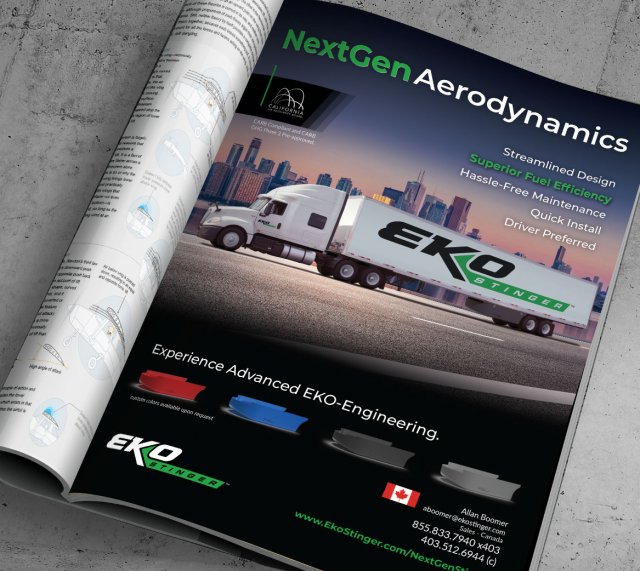 Strategic New Product Launch
Post-website launch, we shifted all our efforts to help the EkoStinger team market their new product. Starting with an email marketing campaign to industry connections, designing a full-page advertisement in Western Canada Highway News, and sending out a press release announcing the NextGen product launch and attendance at the premier North American trade show for fleet performance and efficiency.
In preparation for the trade show in Orlando, we made sure all EkoStinger's print collateral was rebranded with the new visual identity. We delivered professional designs for business cards, banners, posters, sell sheets, and brand wear.
Lastly, as part of an ongoing effort, we updated all EkoStinger's social media channels with the new logo and branding and promoted the product launch, new website, and the NextGen Stinger itself across social media. The timing of these strategic marketing campaigns led to a successful product launch at a major industry event, a strong partner relationship, and EkoStinger positioned for growth.