Social Media Strategies for Your Business
Social media is everywhere.
The proliferation of social media in everyday life seems as common as reading the daily newspaper once was before digital media overtook print.
The rise of social media has infiltrated multiple facets of life—from serving as a platform to connect family and friends, to entertainment and brand promotion.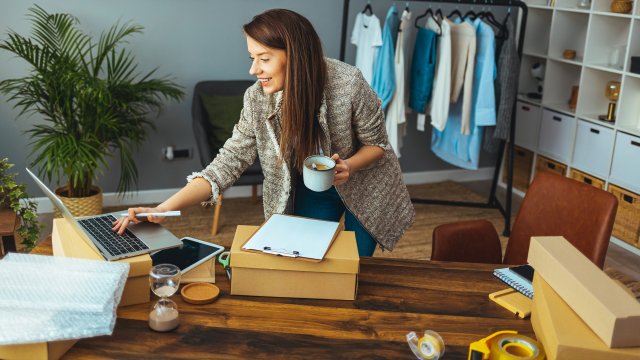 As of July 2022, according to data from Kepois, there are 4.65 billion social media users around the world. That means 58.7% of the entire global population is on social media.
Social media has become a vital tool for increasing your market reach, attracting customers, and growing brand awareness. A successful social media strategy -- as part of your overall digital marketing approach -- will help your brand remain top-of-mind.
Like any good marketing strategy, there should be a method to the madness—meaning you can't just hammer out the exact same content across all your social channels. Using social media scheduling tools to link accounts together makes publishing easy but differentiating that content across each social media platform will help you reach the right audience.
Depending on the size of your company, it might not be possible to utilize all the major social media channels available, but by choosing the top few that will best serve your brand, you can tailor your content to your specific audience, keeping them engaged and potentially bringing in new clients.
Not sure which social platform is best for your business? Here's a rundown on the nuances of each and some tips for best utilizing each social media platform:

Facebook
Despite its almost retro feel, Facebook remains atop the social media hierarchy. With 2.9 million monthly active users, Facebook is still the most popular social media site in the world.
Roughly 37% of the global population is on Facebook each month--a mind-blowing number for potential brand awareness.
Here are some tips to help with your Facebook marketing strategy:
Facebook business page
Any business trying to reach their audience or potential customers should also be creating a Facebook Business Page, which serves as a hub for you to connect with your audience. Creating your business page is free and you'll be able to start using all their helpful features to connect with new and existing customers.
What you'll need to set up a Facebook Business Page:
A personal Facebook profile (personal information will not appear on your business page)

A business page category

Business description, general info, and appealing visuals

A plan to stay active - since Pages perform best when you stay engaged with your followers
Facebook Video Performs the Best
Humans are visual creatures, so including imagery in each post is a must—with video still the best performing content with the highest engagement.
Join Facebook Groups
It seems like there is a group for everything. Facebook has even marketed this very sentiment with its memorable International Kazoo Players Association ad. By joining groups that are relevant to your business, you have a built-in audience literally at your fingertips.
Facebook Ads Manager
Facebook Ads are great for getting your brand in front of potential customers and Ads Manager makes it easy to develop fully customizable ad campaigns. Whether you have a small advertising budget or a large one, Facebook offers varying levels of advertising that can fit within your price range.
Build Long-Lasting Relationships
The greatest power Facebook has is its ability to bring people together. Your Facebook presence will not only increase your brand awareness, but can bring users together who have similar interests, connect old friends, and let you interact directly with your audience.

Instagram
If you're looking for a younger audience, Instagram can deliver, with the bulk of its users landing in the 18–29 age range. Instagram also has a highly engaged audience, with roughly 3.6 billion likes per day, it's not a platform to be ignored.
Helpful tips for your Instagram marketing strategy:
Reach the Right Audience
Instagram provides tools so that you can target your audience accordingly, whether it's a local audience or you want to go global. You can filter your Instagram ads by targeting demographics, location, interests, and behaviors—and through the platform's language tool, you can translate it into different languages to reach audiences worldwide.
Be Real
Whether it's planning an event or goofing off with fellow employees, showing your audience behind-the-scenes content bridges the professional gap by giving your target a glimpse into the team (and faces) behind the brand.
Keep it Short and Sweet
Instagram is a visual space, so keeping captions short and clever while including calls-to-actions makes it digestible, serving an online world with an ever-shrinking attention span.
Show Versatility
As a platform that caters to many forms of visual media, you can meet your audience through IG feeds, reels, live streaming, IGTV, and show behind-the-scenes shots through Instagram's Stories feature.
Utilize Instagram Shopping
If you're selling products, you can - and should - take advantage of Instagram Shopping. You can create a customized storefront, allowing users to check out your products, and create ads with product tags and ultimately expand your brand's reach.

LinkedIn
While not as popular as Facebook and Instagram, LinkedIn has its strengths considering it's the largest B-to-B display advertiser in the United States. As a professional social platform, LinkedIn is a leader in allowing you to connect with the decision-makers in your industry.
Improve your LinkedIn marketing strategy with these helpful tips:
Focus on Attracting Leads
By showing you're a thought leader in your industry, you'll be building brand authority and drawing new leads. This means posting industry-specific content regularly while making sure you're an active participant in other posts and threads.
LinkedIn Pulse
While you can keep up with the latest news and industry trends with LinkedIn Pulse, you can also connect with people through conversations around topical content. Want to be the one doing the influencing? Publish an article through LinkedIn Pulse and boost your brand's authority.
Network
LinkedIn's networking capacity makes it stand out from the other social media platforms. Like Facebook, LinkedIn offers industry-specific groups, which makes it a platform that's valuable for connecting with industry peers as well as your target audience.

Twitter
Since its launch in 2006, Twitter has been a force for businesses to grow their reach and connect with their audiences in an inexpensive way—all you need is dedication to your branding and followers. With more than 500 million Tweets sent per day, Twitter is still a powerful social media platform.
Here are some to-do's for your Twitter marketing strategy:
Grow Your Brand
Through engagement on Twitter, you can grow your brand awareness while making new connections. The platform makes it easy to drop a link to a relevant article, answer a comment, engage with a lot of people, make announcements, and hone your message.
Utilize the Platform Tools
Knowing how to be effective on Twitter is key, which means using hashtags appropriately, pinning important tweets so your followers can find relevant communications, and boosting awareness around your brand through promoted tweets. Careful to not overdo it with too many #hashtags, as well!
TikTok
The video-focused app has increasingly risen in popularity among multiple age groups while also continuing to remain a platform that's keyed into a younger audience.
While it's a bit niche and might not work as well for every business or industry, brands are getting in on the trend. This is a platform where you can show your brand's authenticity, which is the core of what TikTok stands for—being real. Through TikTok, you can create fun, engaging content that your targeted community can connect with, making your brand more accessible to the masses.
Need help with your social media management? Corporate Communications can partner with you and help with your social media planning and setup, answer any questions you have, and provide ongoing social media support. Let's connect.