A better way to search and explore
At Search On 2022, Google announced some major new changes coming to mobile search.
Some of these are cool features that'll make Google's search experience more enjoyable. And some are updates that, if used correctly, can help improve your business' online presence.
Overall, these updates will help expand the mobile search bar to offer more than just search actions, find more relevant results, and shift to a redesigned, more visually-appealing landscape.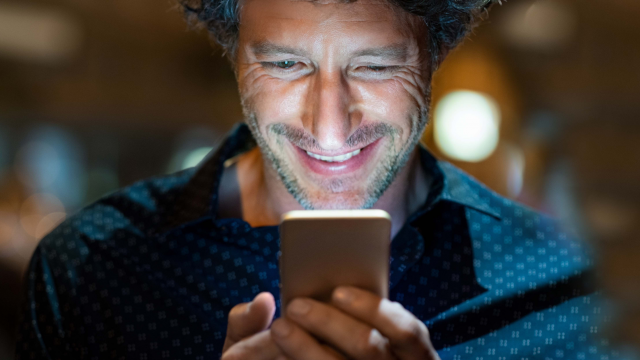 1. Say Goodbye to the Old Mobile Search Bar
With their new
helpful content update,
Google is doubling down on prioritizing content that actually solves a searcher's problem. One of Google's new mobile features has made it much easier for users to find those relevant, helpful links.
As a query is made, the mobile search bar will now display an assortment of other suggestions to offer more specific results.
Additionally, a new feature scheduled to begin rolling out in the next few months will display links within Google's mobile search bar.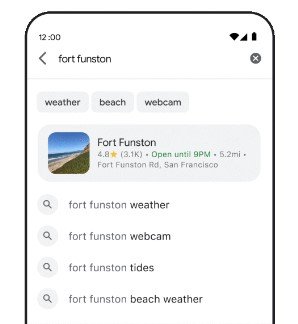 As a search is being typed in, Google will begin populating results - including links to location pages and other relevant sources - directly into the search bar before a query is submitted.
Finding the right (helpful) information will soon happen even faster on mobile!
2. Google Shortcuts Expansion
You may have already noticed, but there are now many ways to search Google results other than typing in a traditional search query.
Go beyond the search box
Google's app is now fully equipped with tappable shortcuts enabling users to translate text with Google Lens, identify certain products by uploading screenshots with multisearch, and even find songs by singing or humming into the microphone.
You can use your phone's camera to search with an image, add text above the search, and Google will take both into account and display the correct search results. For instance, you can:
screenshot a certain product found online and add the query "red" to find other color options
take a photo of your workplace design and add the query "conference table" to find a perfect match
upload a picture of your new computer and add the query "installation manual" to find helpful instructions
Google's advancements in artificial intelligence is making it much easier to navigate the digital world and better understand the real one.
3. Revamped Google Web Stories
The search query refinements are certainly helpful and newsworthy, but the real focus of these changes involves a giant shift to a much more visually-appealing mobile search.
First, Google is going all in on Google Web Stories and blending dynamic video, audio, images, text, and animations into mobile search.
Creators - both individuals on the open web and brands - will now be able to showcase their Stories directly into search results, alongside other images, links, and text results, as well as other relevant widgets.
Google stated on their blog, that for search queries like specific cities:
"you may see visual stories and short videos from people who have visited, tips on how to explore the city, things to do, how to get there, and other important aspects you might want to know about as you plan your travels."
These Stories can be opened and viewed in full-screen and any links contained within will have more potential for visibility, as well.
4. Reimagined Visual Results
Mobile search results pages are about to get a stylish makeover.
It's 2022. We're all browsing the web on mobile and we're all too lazy to click between Web searches, Image results, and Video tabs. That sounds exhaustingly frustrating, doesn't it?
Google will now combine and display all these results into a single page of continuous visual discovery.
This update is directly related to how users are exploring topics on Search, specifically on mobile. Whatever format is most relevant for a particular search - which could very well be a mixed feed of text, images, and video - will be displayed atop this new and improved SERP.
Users will likely discover exactly what they're searching for or continue scrolling through the new feed until they find something worth engaging with.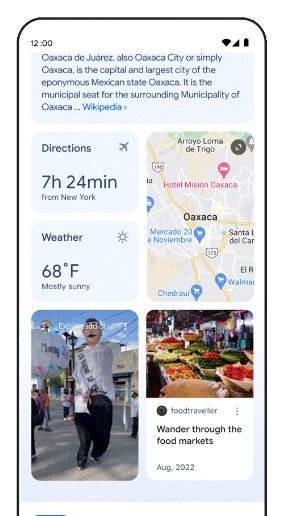 5 and 6 Bonus Updates:
Though these updates weren't announced at Search On 2022, they're rolling out now on mobile.
First, now, when a Google listing is shown in mobile search results, the name of the site will appear - your site name - rather than a page's title tag. However, this feature doesn't work for subdomains and will only work for searches for the name of a site which typically show the home page.
Title tags are still important - both for SEO purposes and for desktop queries, but Google wanted to make it easier for searchers to identify the specific website they're looking for in search results.
Finally, Google Ads are going to look a bit different on mobile results pages, as Google shifts its subtle 'Ad' tag to a much more prominent and bolded 'Sponsored.'
This change will help searchers better distinguish between organic search results and paid advertisements. Google Ads remains the company's main source of revenue, generating $56.3 billion in ad revenue during the 2nd quarter of 2022, so they're still heavily invested in PPC - but it's worth noting their efforts to help searchers identify organic listings compared to paid ads.
Curious about how to use these new updates to your company's advantage? Corporate Communications is a full-service digital marketing agency in Rochester, NY, with experience developing successful SEO strategies, PPC campaign management, SEM analysis, and more.