Creating a Mobile-Friendly Hub for a Tourism Agency
New York's Wyoming County Tourism Agency was faced with an outdated website that no longer accurately reflected all the county had to offer. With new businesses, events and activities to add or change on a regular basis, the agency needed an easy-to-use Content Management System situated in a robust overall website presence. The need was also there to enhance the site for responsiveness with mobile devices and tablets, and also to better incorporate the agency's social media presence.
Branded Responsive Website Design
The Wyoming County Tourism Agency had recently re-branded and we worked with them to incorporate and enhance the new identity throughout their new website. We carried the overall brand identity as established in their offline advertising and further developed this new branding online. In addition, we made the site responsive to mobile devices and tablets, a critical component in the tourism industry where visitors need to be able to access county information while on the go.
Easy-to-Use Content Management System
One of the agency's primary concerns in the development of a new website was to have more control over content management for regular updates. County information from events to new businesses is constantly evolving and the need to be able to easily update this information was a high priority. We developed an updated content management system (CMS) that allows for easy updates and changes. The new CMS also includes features for easy blogging, updating the events calendar and updating of county business listings.
Social Media Focused
In the tourism industry, it is essential to have a well-established and easy-to-access presence on social media platforms. The Wyoming County Tourism Agency already had the presence on platforms such as Facebook and Twitter. We made this presence easier to access for visitors to participate. The new website features the most recent listings on each as well as the ability to easily share the site with others.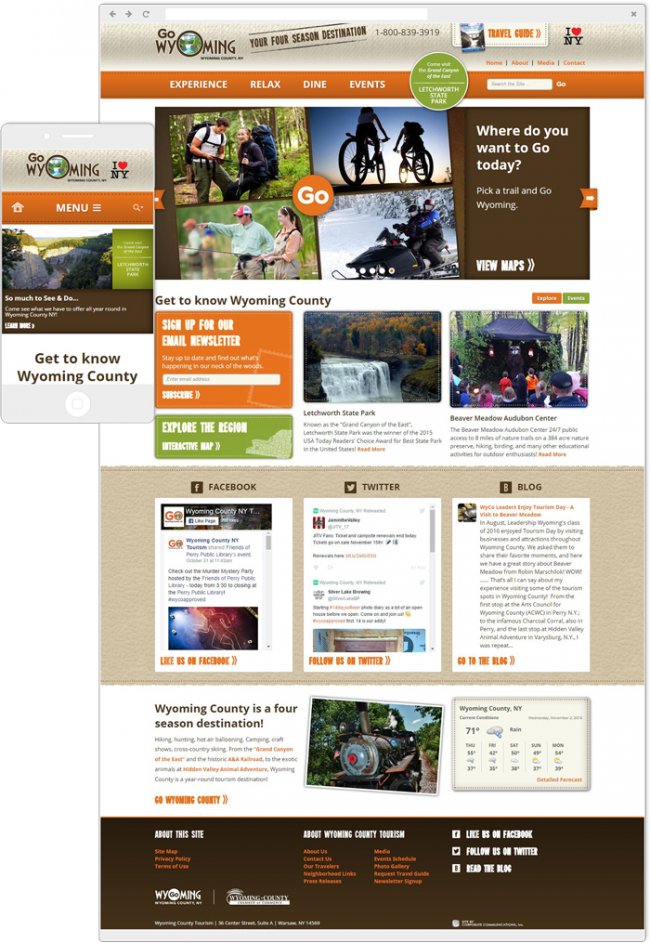 "I can not say enough positive things about Corporate Communications and my new website. From design to implementation to current upkeep, the group at Corporate Communications has gone above and beyond. Being in the tourism industry, an up-to-date website with mobile capabilities is critical. When tourists are traveling around your county, they need to be able to access nearby attractions, restaurants, etc. and our old website was unable to meet these needs. The new site is well thought out, easy-to-access from any device and has features that will make "traveling life" easier for our tourists. I highly recommend Corporate Communications, and if you look at my new website, you'll see why. It speaks for itself."
Vice President, Tourism & Marketing, Wyoming County Chamber & Tourism