Revamping for Camping
When looking to put a fresh face to their pre-existing, well-established brand, Spruce Row Campground & RV Park teamed up with Corporate Communications to create a revamped brand and new website that would accurately capture Spruce Row's overall identity.
Through the development and design of a new website and logo, development of fresh content, implementing SEO strategies and the creation of a sitemap and print collateral, we were able to sculpt Spruce Row Campground & RV's brand identity by giving it a more refined look.
Website

Brand Identity

Print

SEO

Content Development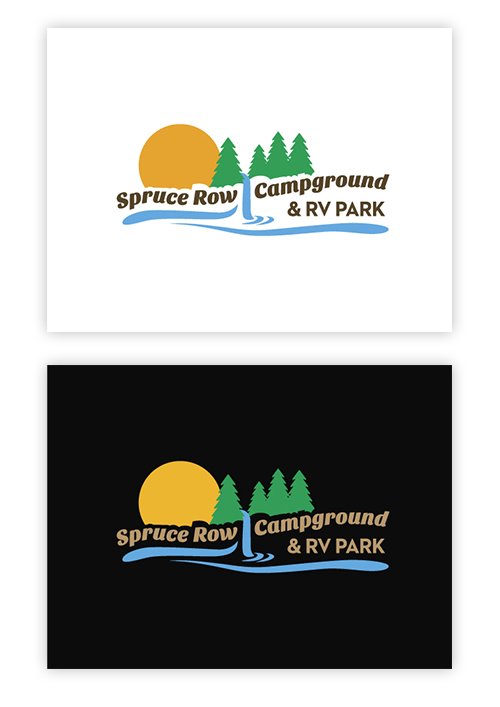 Developing a Responsive Website
One of the more important components when redesigning Spruce Row's website was to make the website responsive so that it would be easily viewable on all types of devices. Now, campers are greeted by a responsive, visually-appealing site that is easy to navigate and understand both on desktop and mobile devices.
Travelers can easily explore all that Spruce Row has to offer including rental options, amenities, facilities and more.
Our custom Content Management System (CMS) allows website administrators to update and maintain the website with ease.
Putting a New Face to the Brand
Spruce Row was looking for a fresh face to their brand that would help to better tell their unique story. Their message focuses on the experience that comes along with camping at Spruce Row as opposed to just listing all there is to do there.
Working closely with Spruce Row, we developed a new logo that accurately encapsulates the surrounding area of the campground.
The goal was to speak to all of Spruce Row's strengths and build upon them to enhance their brand from what it was before.
Optimizing for Best Results
The content that was developed throughout the redesign process was written with an eye toward SEO. After thoroughly researching keywords and terms relevant to Spruce Row, we tweaked all pre-existing content on the website and developed new content to make sure that all content on the site would be more search-engine-friendly.
The detailed keyword analysis helped us create more content that will generate more traffic and return on investments through SEO.
After researching the industry to gain an overall general understanding of the Spruce Row brand, the new content that was developed speaks strongly for everything that the Spruce Row brand stands for.
Print Collateral
In an effort to further promote the revamped Spruce Row brand, working together, we designed a print ad that directly reflects their improved brand, logo and message.
Development of a Sitemap
A detailed sitemap was created to clearly lay out the entire campground and RV park so that campers can now easily locate everything that the campground has to offer from rental cabins, RVs, recreational areas and more.
The aerial view of the campground makes it easy for users to navigate their way through the map and quickly locate certain destinations.