The Seventh District Dental Society, a component of The New York State Dental Association serving several counties in Western New York, was looking to update their website for a fresh look and better functionality for their visitors. The Society organizes and promotes the most recent dental industry information and supports continuing education through sponsored conferences and dentist referrals for the public. When they realized they needed an online presence that would assist them in reaching the dental community and public through an easy-to-navigate user-friendly interface, they turned to us. In addition, The Seventh District Dental Society also wanted fresh, engaging content to create greater website engagement from dentists to improve their conference participation and increase the use of classified ads.
Improved, Responsive Design
The Society was looking to improve their overall design with a fresh, updated look that was easy-to-navigate and easy-to-access from any device. We worked with them to develop a look that was consistent with other marketing materials and that was conducive to promoting training events and other important news. In addition, we developed the site to be fully responsive to mobile devices and tablets to make the website easily accessible and readable from anywhere.
Members Login
The website needed an area where members could login to view continuing education materials, classified advertising and a networking area among other benefits. This area needed to be easy to log in and navigate. We developed a members-only area that is easy to get to and where users can find what they are looking for quickly and easily.
Easy-to-Use Content Management System
Due to constantly changing content, the ability to easily update content and information on the website was essential. We implemented a content management system (CMS) that is easy to use and allows for quick updates of new events, news and training seminars, including an easily edited listing of upcoming events on the homepage.
We also set up the site to import member updates directly from the American Dental Association's database listing of dentists. This allows for easy site maintenance and accurate information.
Email Marketing Tool
The society communicates with its members on a regular basis and the use of our 360blast Email Marketing tool was an important part of their work with us. They have used the tool to communicate with dentists about upcoming conferences and other industry news as well as to vendors to promote participation at select industry events.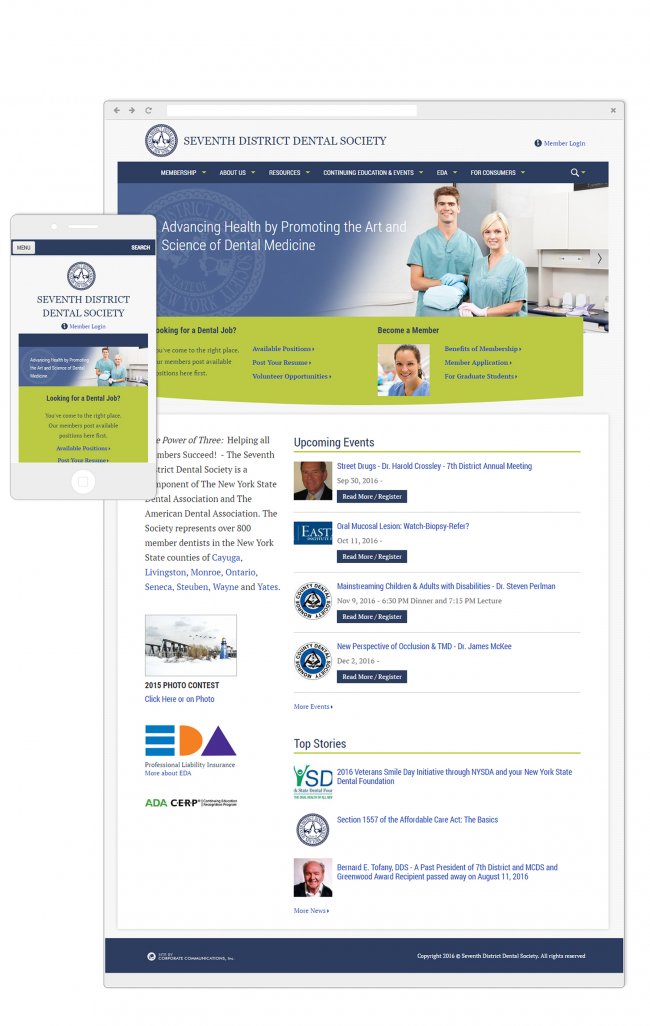 "To remain relevant in this fast-paced mobile environment, we knew we needed a professional website that could be viewed on any mobile device, easy for our members navigate and just as easy for our office to update. From our online registration for Continuing Education to our interactive Classifieds module, the site allows dentists to access valuable resources and benefits anytime and from anywhere. With the added email 360Blast tool, communication is effortless. In an economy where you must provide more with less, 7dds.org is one of our greatest assets."
- Lori B., Executive Director, Seventh District Dental Society