An Online Resource for Grape Lovers
Following closely on the heels of the official opening of The Grape Discovery Center (Westfield, NY) the Concord Grape Belt Heritage Association announced with great fanfare the launch of a completely redesigned website. The new destination marketing website (http://www.grapediscoverycenter.com) is focused on promoting and educating visitors about the grape growing history, stretching from Northwestern Pennsylvania through Western New York along the shores of Lake Erie.
Consistent Branding
The previous website did not maintain the overall brand for the Concord Grape Belt Heritage Association, nor did it communicate the message that the Grape Discovery Center was trying to achieve designed to inspire grape and wine lovers to visit the center. We helped to achieve this by working with their existing branding and creating a unique online presence to function as a gateway into the history and heritage behind the Concord Grape Belt.
User-Friendly Interface
As a destination website, there was a need for visitors to be able to easily navigate through the site to quickly find information relevant to their interests. We designed the new website with a simple, sleek, intuitive design to easily access information about the center, its vendors and related activities in the region. The new website is fully responsive and easily viewable in mobile devices and tablets. Being a destination website, this was a very important feature to incorporate into the redesigned site. The integrated social media and affiliates links provide plenty of resources for users to keep up-to-date and connect with other organizations in the region for planning trips, tours and events.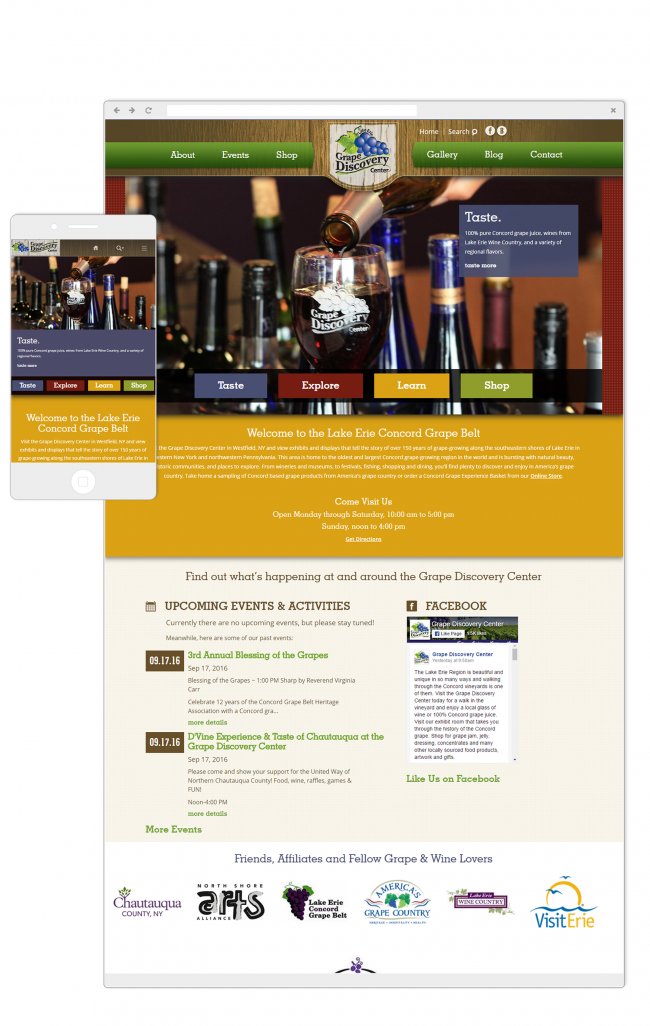 "In early 2014, the Lake Erie Concord Grape Heritage Association sought to professionally revamp its Grape Discovery Center's website. A volunteer committee of board members requested proposals from several sources, including individual contractors and website development firms like Corporate Communications. Corporate Communications returned a proposal that was, by far, the most clearly defined and comprehensive, with credentials that showed us that they understood our product and mission and creative that matched our brand. In the middle of the development process, we underwent a major and untimely staff transition. Bren Jobe, Creative Director at Corporate Communications, worked patiently and diligently with us to keep the process going and finish the project, often making suggestions for the site that we would have overlooked. The result is a clean and attractive website that is easily maintained and updated. We eventually plan to do more with the site and will maintain an ongoing relationship with Bren and the team. I would highly recommend the services of Corporate Communications to others for their knowledge, technical expertise, and most importantly, for their patience and customer support."
- Stephanie Burdo, Board Member and Chair, Website Development Committee, Lake Erie Concord Grape Heritage Association and Grape Discovery Center