Rochester Regional Healthcare Association was going through a complete rebranding and trusted that Corporate Communications could provide the digital marketing strategy and expertise needed to support their new mission, vision and overall business model. They chose us to implement the tactical execution of a key component of their new brand, their new website.
We were chosen for a variety of reasons; they were familiar with our work with the University of Rochester, as well as our other projects with non-profits and health and human service organizations. Additionally, we had demonstrated a high level of programming expertise, which gave them the confidence we could simplify a very complicated administrative process of uploading member contract data for online use. They also liked the simplicity, tremendous capabilities and ease-of-use of our custom Content Management System (CMS) when they saw a demo.
Between our body of work, expertise and track record of success with Pandion's peers, they trusted we could successfully carry out the execution of their new site.
Website

SEO

Content Development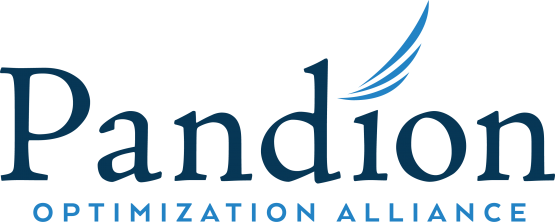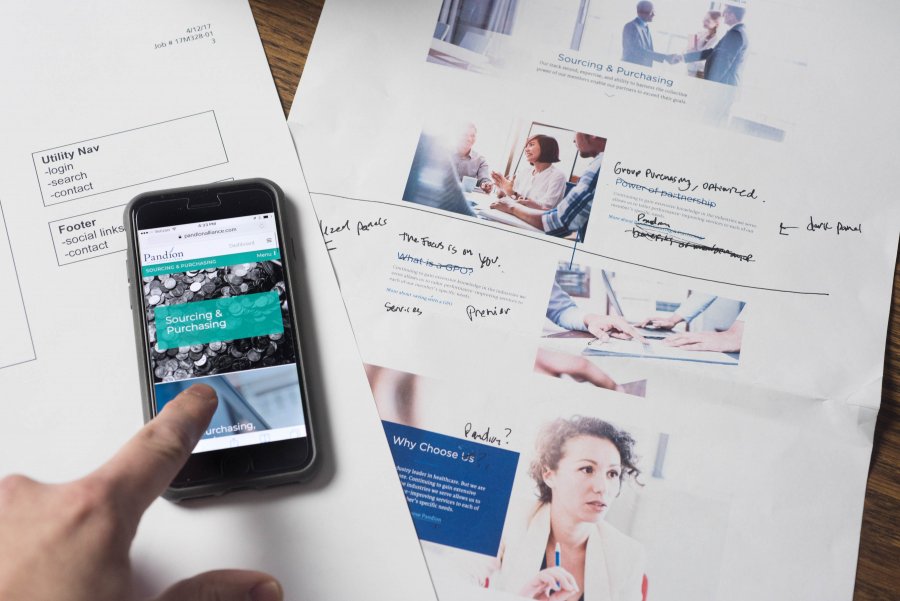 A Complex Challenge
Rochester Regional Healthcare Association consisted of three very different business units, each possessing a common thread to the others. Our challenge was to find a solution to meet the diverse goals of each business unit on one website. There is a non-profit consortium of 17 regional hospitals with a desire to increase their influence and impact (as opposed to membership growth), a for-profit regional GPO (group purchasing organization) with a goal of significant member growth, leveraging their ownership of a national GPO called Premier to compete, and finally, develop awareness and interest in their new revenue stream as purchasing consultants.
New Brand with a New Name
The main focus of our tactical strategy was to introduce a new name and identity that would represent the entire organization as Pandion Optimization Alliance. While rolling it out, we also rolled out the renaming of the three different organizational units in support of the new name. To accomplish that, we designed and developed a HUB site that would bring all three websites under one roof. A single website would provide a better user experience for those that are involved in all three entities and it would effectively create the connection between the three business units under one new and unified brand name.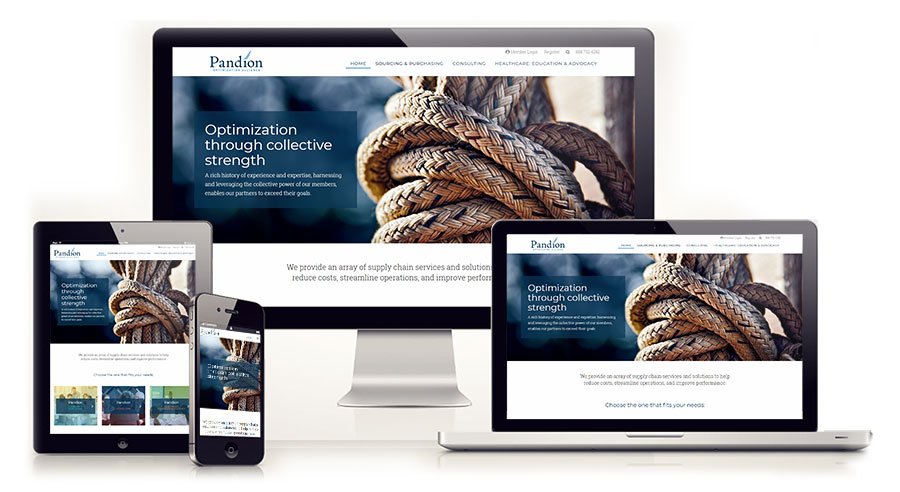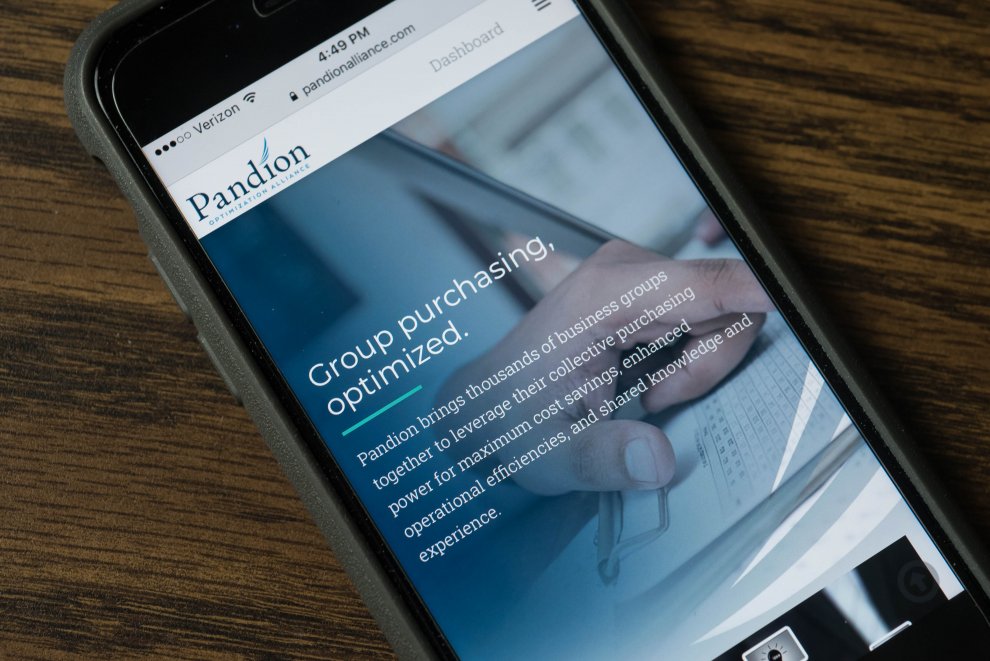 Redefining the Organization
After creating a solid framework for the new Pandion Optimization Alliance brand, we developed a new website architecture, as well as all of the website content and imagery needed to support the key messaging. The new brand messaging needed to effectively convey to members that Pandion's strength was from the collective strength of all of Pandion Optimization Alliance's members.
We compiled Pandion's branding statements and developed related content for the entire website that would showcase the brand's new vision and overall mission. Since there were three pre-existing sites, the organization of the new content developed really helped to streamline things in a faster, more efficient way. A strong emphasis was put on differentiating the relationships between the different organizations.
Consolidating Three Sites Into One
The new, overarching website HUB consolidated three pre-existing organizations with three different business names and three different websites down to one, under one new name. Our goal was to significantly simplify the back-end web development process and content administration, all while clarifying for visitors the relationship between the three different business organizations. The end result is a professional, contemporary looking, responsive website that effectively promotes Pandion's offerings, achievements and new brand.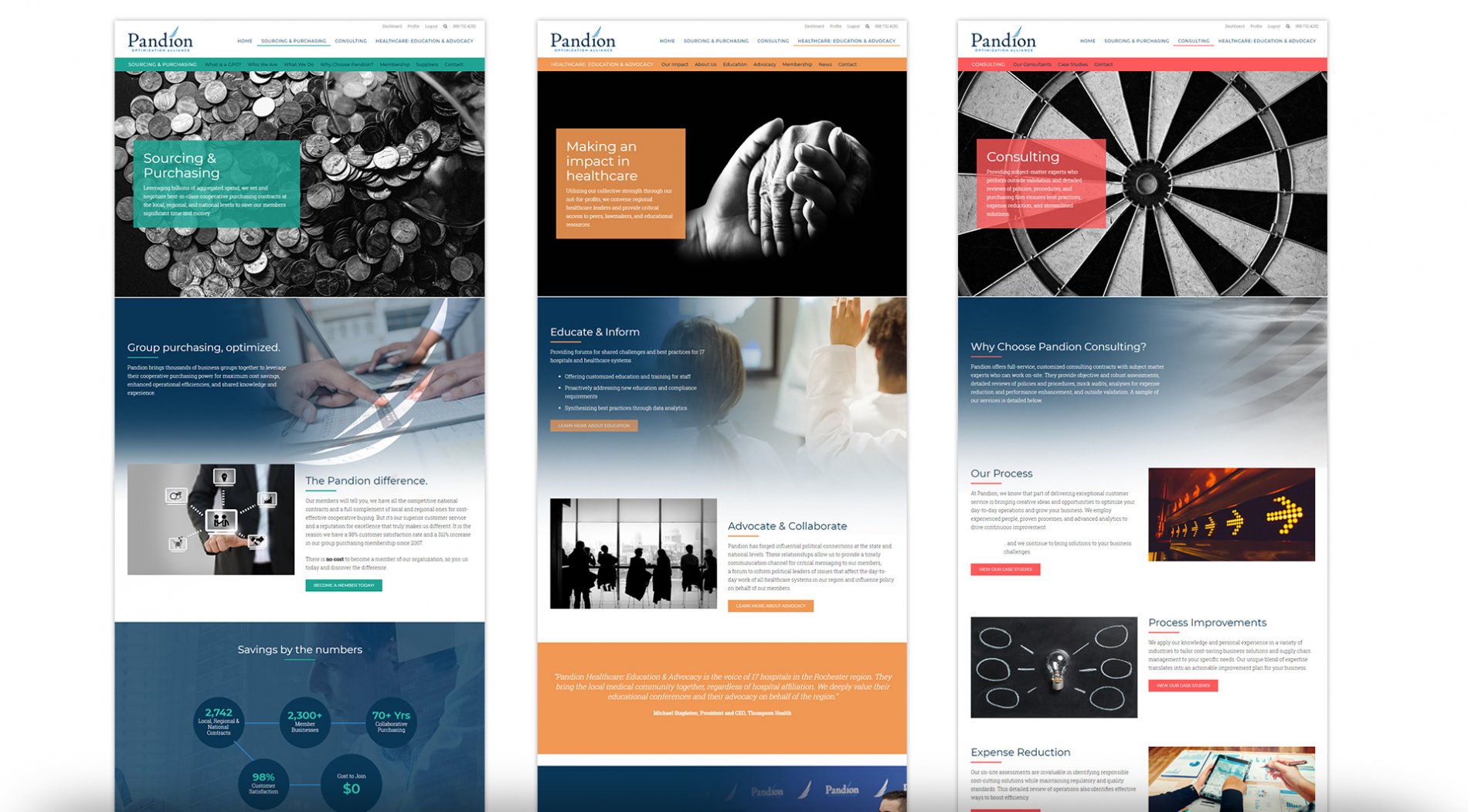 Marketing Objectives
Other marketing objectives included promoting and expanding Pandion's group purchasing membership, providing better ways to publicize their healthcare advocacy accomplishments, publicizing and promoting their healthcare educational opportunities and annual healthcare conference for hospital administrators.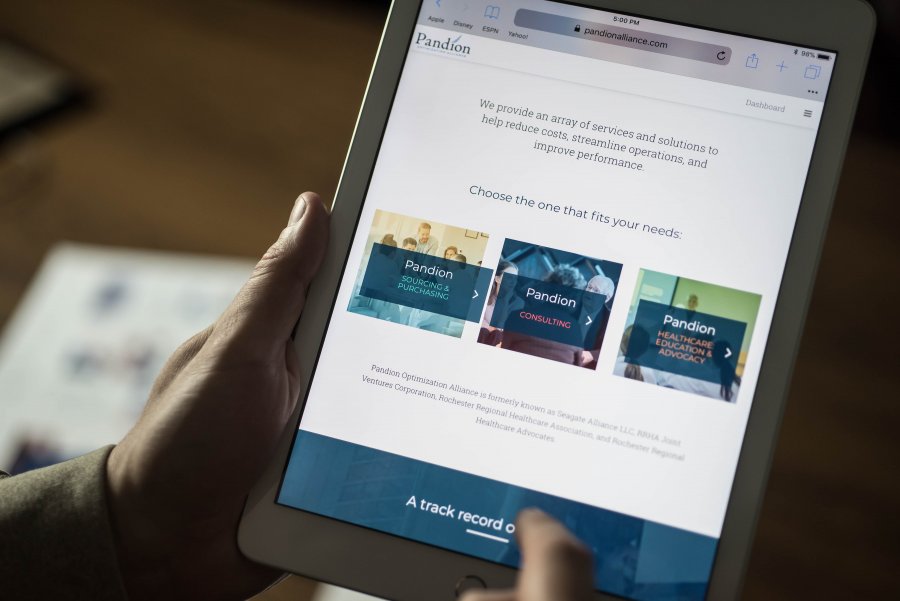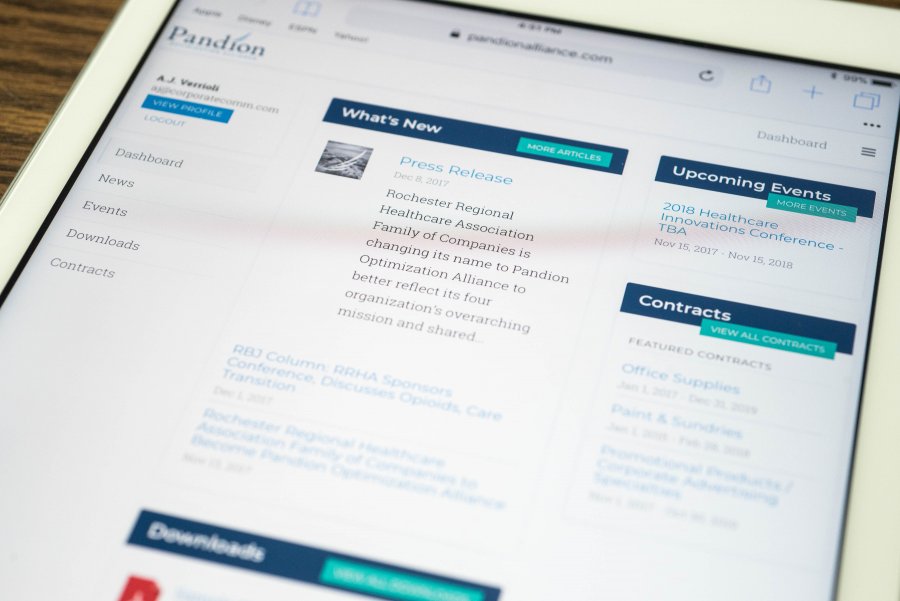 Bringing Business Functionality to the Web
The new website also includes a new and improved private member-only login portal. Members can now quickly see "What's New," stay up-to-date on upcoming events, view and share files for meetings, and view contracts for exclusive member pricing for products and services. This new, simple and streamlined process is all driven by the members' account status and login permissions. Pandion's internal staff love how we simplified their administrative process and brought this core business functionality to the website.