Lake Ontario Wine Trail is located between Rochester and Syracuse right along the shores of Lake Ontario, stretching across a region known as 'apple country'. The trail association was growing and they knew it was time to adopt a new brand identity and institute a new website. Driving both endeavors was the need to create brand awareness and differentiate themselves from the many other Finger Lakes trails nearby.
Website

Brand Identity

Web App

"Corporate Communications created both a new logo and a website in record time. The website is simple to update, and they are very responsive to any of our concerns or questions. Guests travelling the trail have praised the new logo as well as the look of the pages. It's extremely simple for our visitors to create a tour map for themselves – a win-win for all of us!"
- Joan Allen, President, Lake Ontario Wine Trail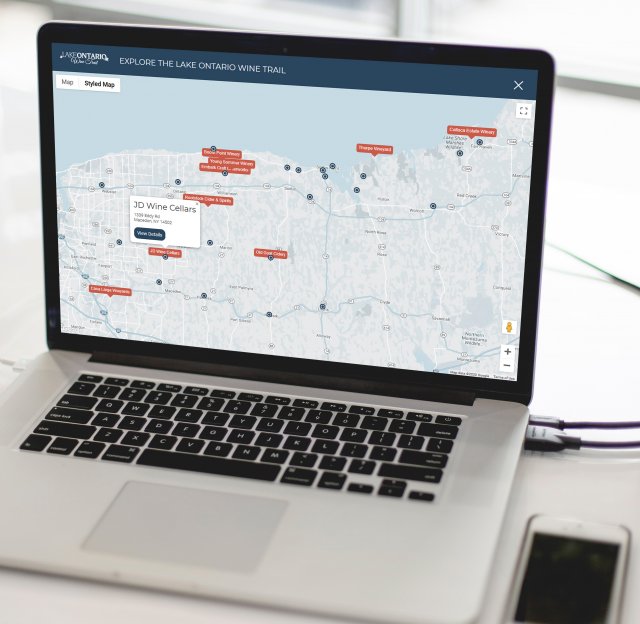 Wine Trail Tourism Marketing Strategy
Picturesque scenes along the Lake Ontario Seaway Trail, a variety of craft beverage manufactures (no, not just wine!) and the diverse membership of the Lake Ontario Wine Trail make this organization unique to New York State. Recognizing these distinctions, our marketing specialists along with our design team, collaborated with the trail leadership to envision and implement a customized marketing strategy that promotes the trail and trail members as a diverse and growing tourism attraction.
Wine Trail Logo Design
Driven by strong growth of the wine trail, which includes producers as well as related local businesses, the previous logo no longer accurately represented the trail or members. Add to the fact, the old logo design was tired and did not lend itself well to the variety of marketing applications the trail branding it with – it was time for a new logo design.
Our designers worked with our marketing strategists and trail leadership to create a new logo design that is appealing and modular. The resulting logo design is representative of the unique aspects of the wine trail – the proximity to Lake Ontario and award winning wines, ciders and spirits. We honed in on a wordmark-style logo design with flourishes of apple and grape leaves. The added ripple texture on the letter represents the clear waters of Lake Ontario. We devised a color scheme reminiscent of a vintage American flag - navy blue being traditional, with accents of red and honeysuckle giving it a rustic, small-town feel. All these elements combine to create a professional and approachable identity for the organization.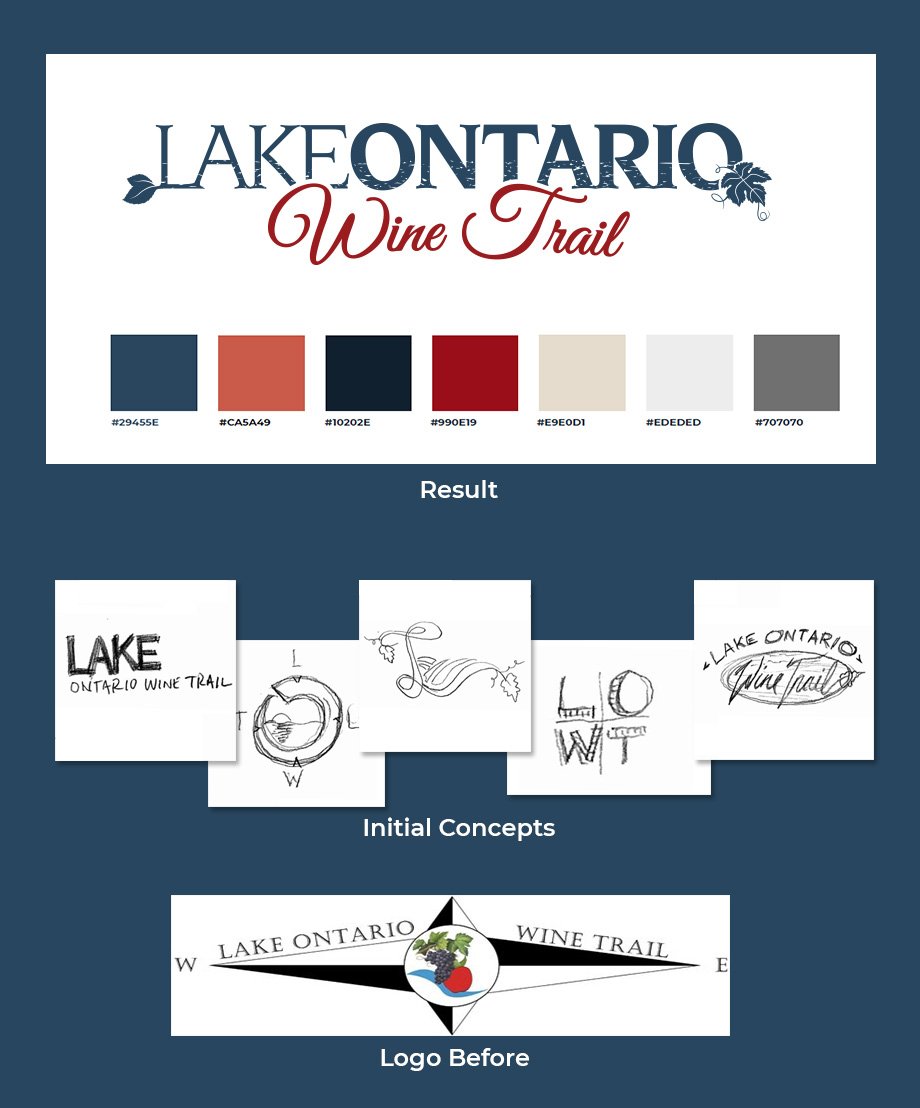 Wine Trail Website Design
Following closely on the heels of the new wine trail logo design, we embarked on envisioning a fresh website design for the trail. We had a goal of getting website visitors excited about the trail and related events, ultimately enticing them to plan a wine trail visit or purchase event. We achieved this through a creative combination of brand design elements and rich photography in an extremely user-friendly UX interface design. A user friendly front end was only half of the resulting website.
The other half was incorporating a Content Management System to make administration of the site simple and straightforward. To achieve this we implemented UNION CMS. By utilizing this CMS we are able to make on-the-fly client modifications to make the administration process meld seamlessly with the organization's current process flow.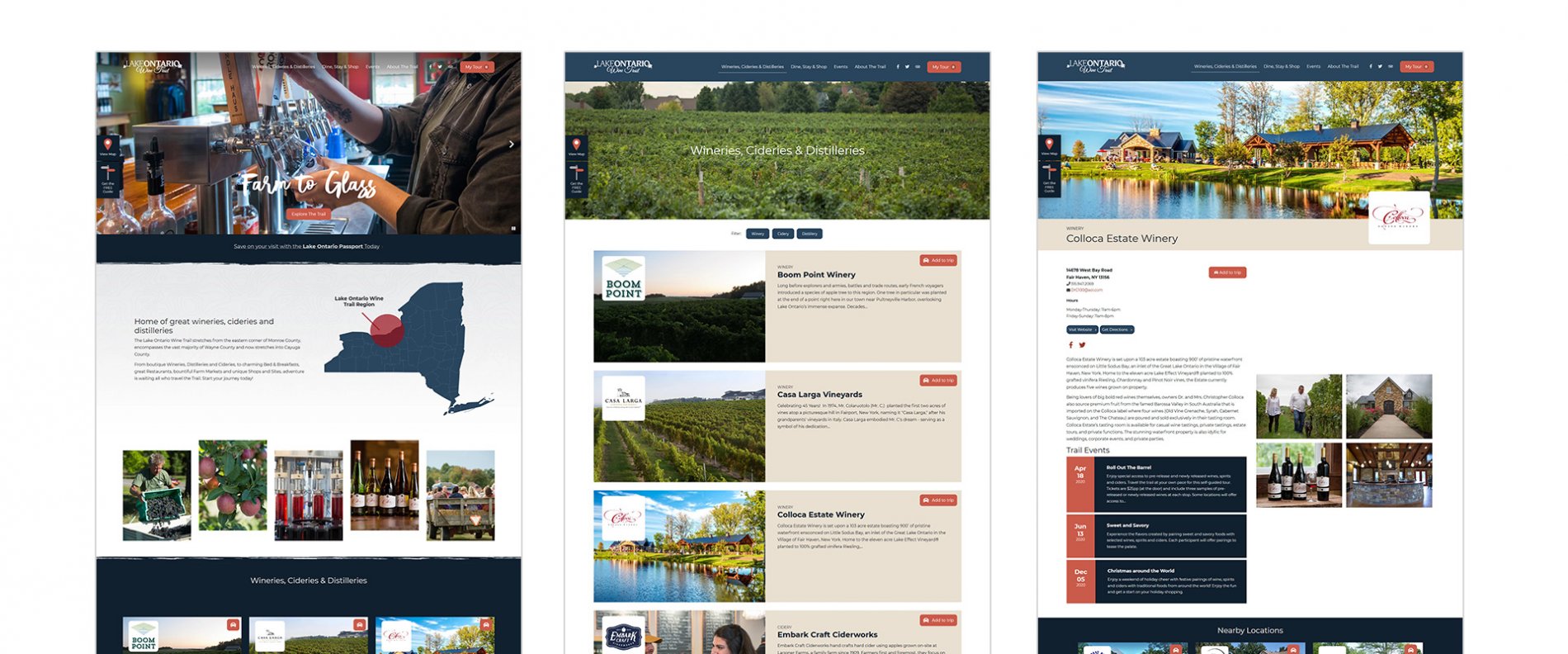 Plan your Wine Tour Trip Planner
We further enhanced the user experience on the new website by adding a wine tour trip planner. As users navigate the website they can add wineries and other member businesses to their trip itinerary with one-click. Each itinerary creates a unique URL which allows for easy sharing via email & Social media. (Enhanced website analytics tracking capabilities are an added benefit of the unique URLs.)
Once destination selection is complete, users can plan their route. The wine tour route planning functionality utilizes Google Maps. This makes the process of changing the order of stops simple. Additionally, users can send the directions directly to their phone or completely customize their trip by avoiding certain roads or even getting biking directions!