A Place to Navigate Your Way Through New York State's Most Haunted Attractions
65 spooky locations spread over 31 counties and over 400 years of history is what makes up the state-wide, nationally-recognized Haunted History Trail of New York State. The trail offers ghost-hunting excursions, haunted attractions and unique locations in almost every region that are perfect for those who like to hair-raising, nail-biting experiences. Corporate Communications, in corporation with Genesee County Tourism, worked together to build a visually-stimulating and informative website and app that would best represent the Haunted History Trail of New York State and all of its unique offerings.
Website

Web App

SEO

Social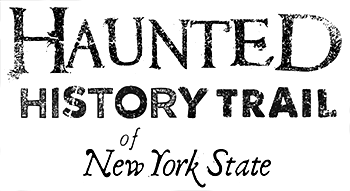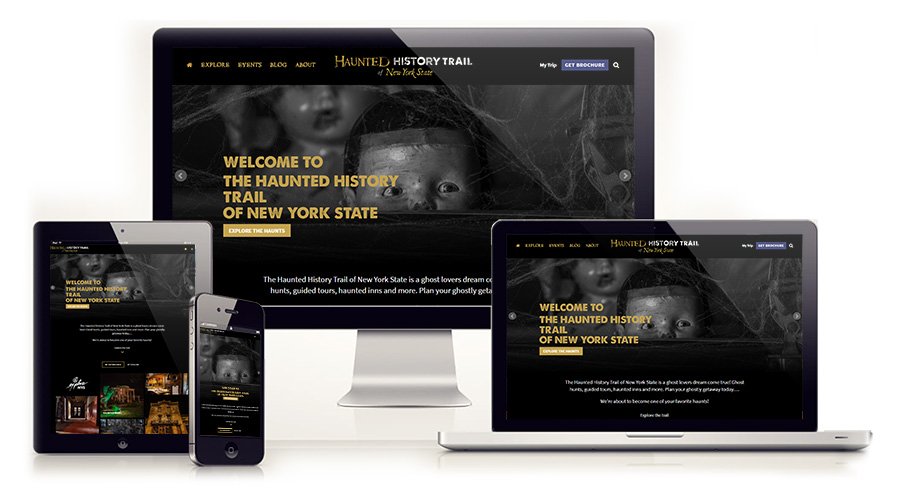 Developing an Interactive Website
The web development of New York State's Haunted History Trail is designed in a way that is meant to be both desktop and mobile-friendly to ensure that the site is responsive on all devices. The website serves as a hub for all-things-haunted by providing an exhaustive list of statewide scary events, haunted locations and even a blog for people to read up on certain attractions. Interactive opportunities are also available for visitors, which are catered specifically to individual locations.
Improving the Design
The responsive website design of the Haunted History Trail focuses heavily on the use of eye-catching photography, eerie imagery and a dark-themed color palette that accurately encapsulates the spookiness of some of New York State's most haunted attractions. Visitors, locals and paranormal-curious alike can recognize familiar buildings, attractions and other locations that will entice them to visit for themselves.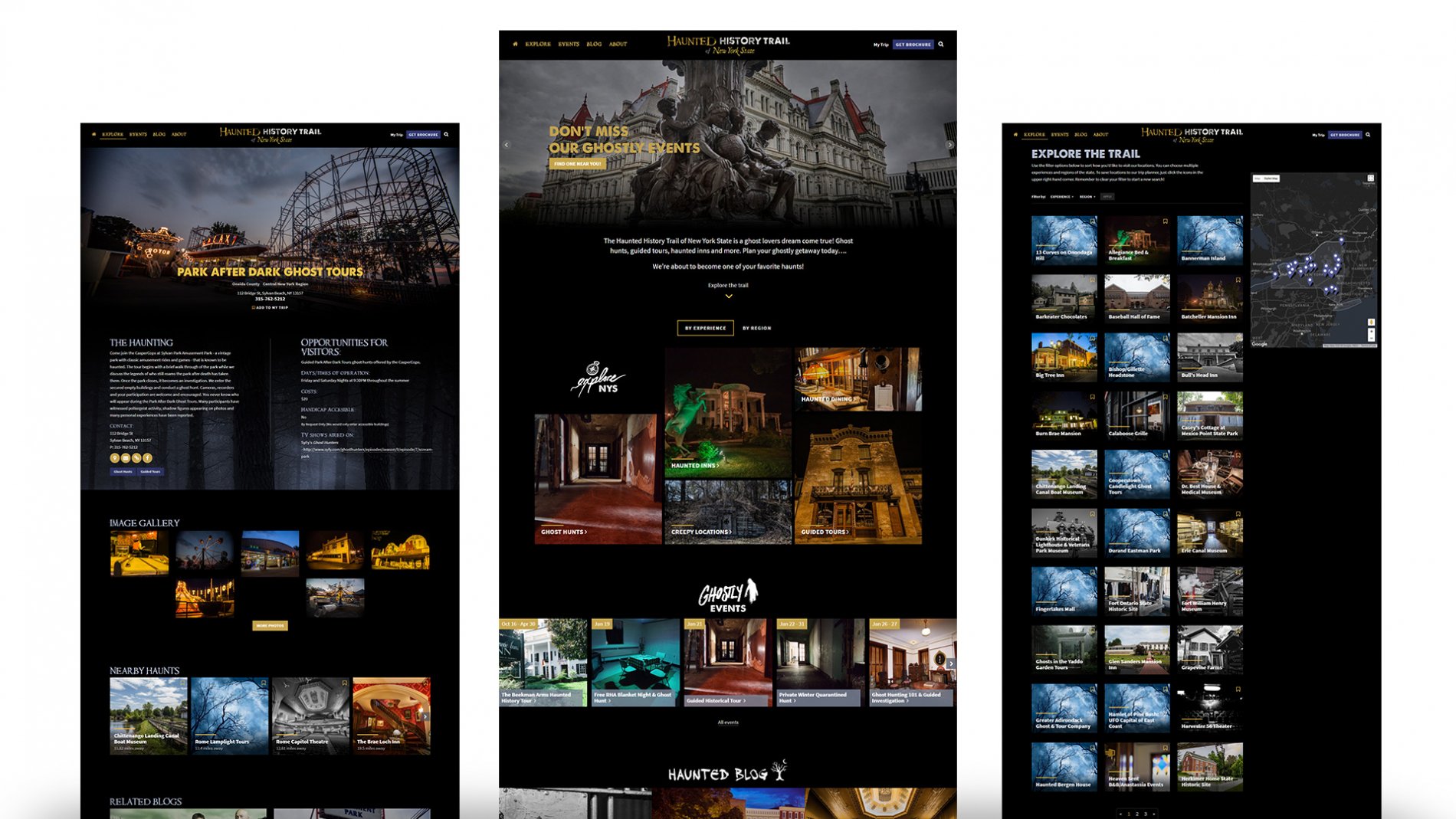 Interactive Custom Website Application
The Trip Planner app allows people to create and customize their own trip, navigating their way through some of New York State's most haunted attractions – all while providing extensive information on each unique location. Additional trip planning collateral can also now be requested from both the trail itself, as well as its related county. Through this interactive, user-friendly app, people are able to pick out specific locations that best fit their personal interests. Based on the user's location, the app generates a customized trail of destinations closest to them.
Also, counties can now login to the back-end of the site when users request information on certain locations and have access to pull down a thorough list of information that can quickly and easily help to fulfill users' requests.
A Way to Stay Up-to-Date
We worked to create an extensive, robust events calendar that would be much simpler for consumers to understand and for counties to add their own events. With this new events calendar, county administrators are now able to login to the back-end of the Haunted History Trail website and add their own events in full detail. Before publishing, the main administrator of the site has the ability to proof, edit and submit the event as they see necessary.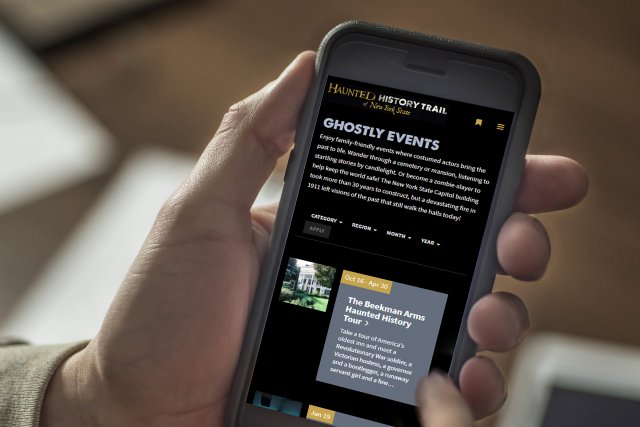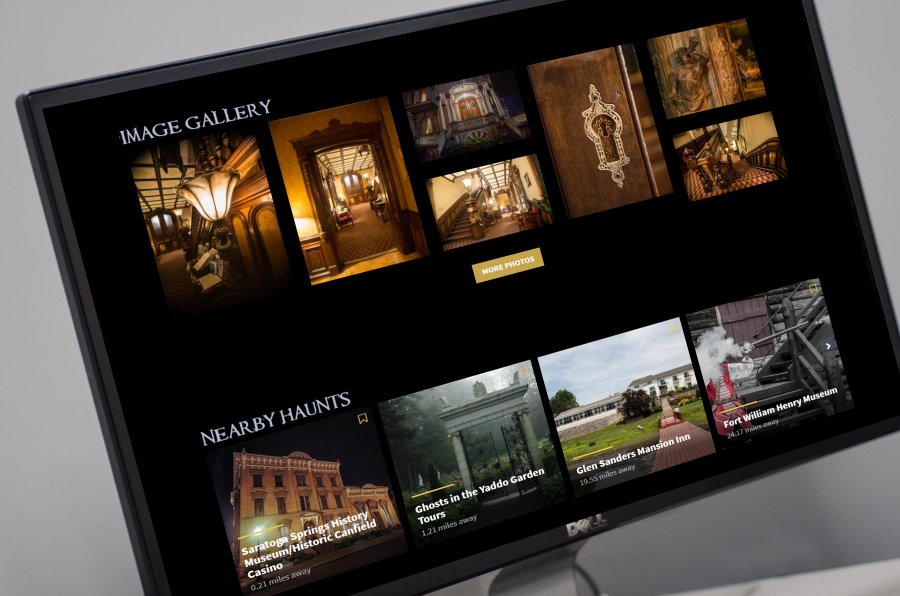 Building a Customized Solution
Through this new-and-improved custom Content Management System (CMS), updates, changes, edits and additions can be made quickly and seamlessly whenever different administrators login to the back-end of the website. Changes can be made whenever needed - not at the convenience of a third-party web designer or developer.

For convenience reasons, the custom CMS is built to accommodate a multitude of different site admins and users.