3BL Association (formally known as Corporate Responsibility Association), The World's Leading Communications Partner for Purpose-Driven Organizations is a member-based organization of companies that look to 3BL Association to elevate and promote the good corporate behavior of its members with a new, larger communications platform. Being in the communications business, they felt they needed to improve the navigation and enhance their content in a more polished, contemporary looking website that could be the "communication hub" for their members. 3BL Media was familiar with our work and asked us to design and develop their new websites.
Website

Brand Identity

Content Development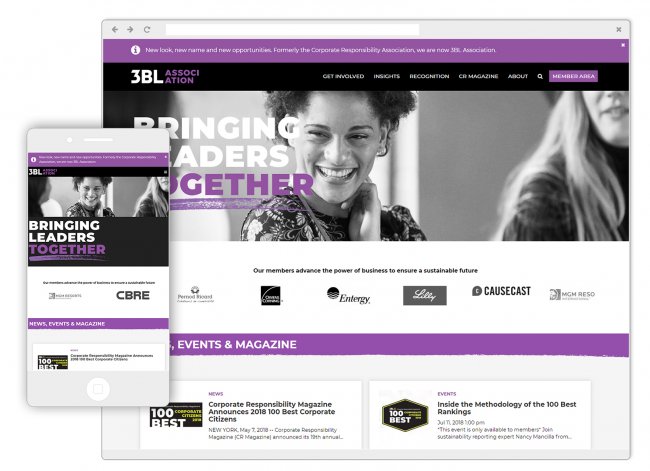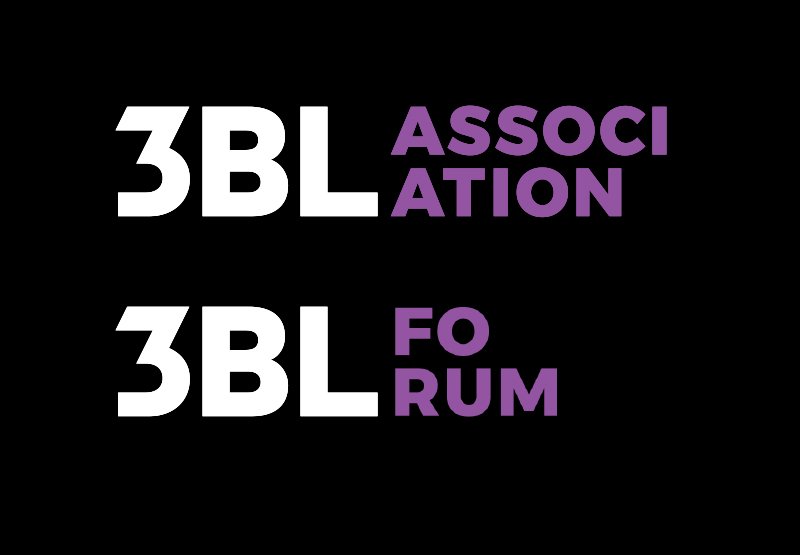 Unify the Brand
When being tasked with the development of a new website came a few challenges; one of the larger ones being a complete corporate rename and rebrand for all 10 related companies under 3BL Media. All business units were becoming a sub-brand of 3BL Media with the same distinctive branded look and feel. We incorporated the new name, brand guidelines and signature graphic elements into the new 3BL Association and 3BL Forum websites to give it that unified look and feel they were going for.
Promoting Rich, Searchable Content
To better function as a communication hub for 3BL Association members, we provided a new navigation scheme with an overarching focus on Getting Involved, Insights, Recognition and CR Magazine, as well as a separate Member Area only for premium material. This now allows them to promote rich, searchable content of the good corporate works of their member companies.
We provided 3BL Association a better way to showcase their members' stories within a unified platform through the Insights section. By converting well over 200 CR Magazine articles into web pages, combined with their News and Blog articles, they launched their website with nearly 300 easy-to-search featured stories for both users, the media and members.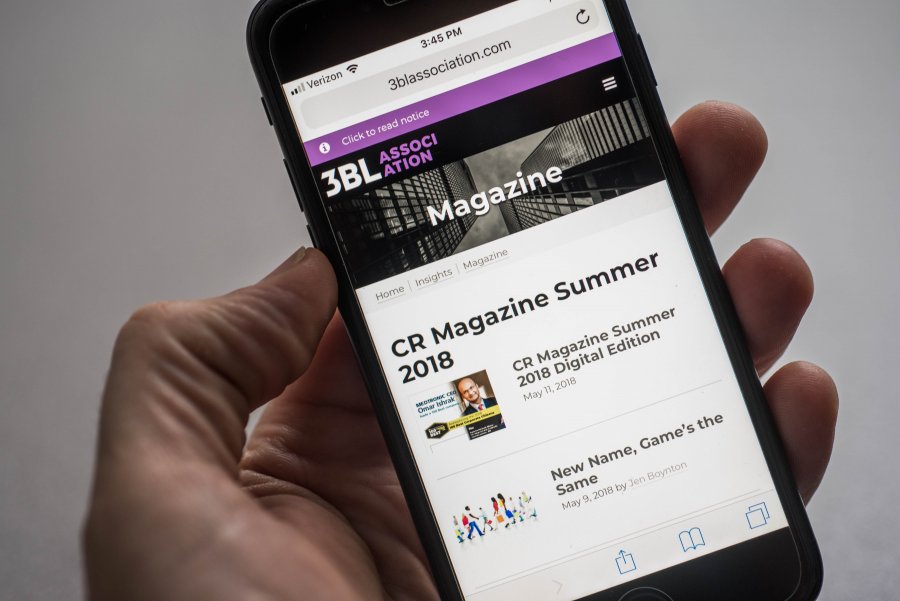 Ease of Publishing
The 3BL Association and 3BL Forum team had experience using many other Content Management Solutions (CMS), but they wanted to try out our custom CMS on their 3BL Forum website. The ease of publishing through our CMS appealed to them so much, that they wanted to continue using it for their other websites as well. In the communications business, your mission is to deliver fresh, immediate and relevant content. With the help of our CMS, they can now easily engage staff at all levels to do their own publishing through their own login credentials to accomplish this mission with very little training.
3BL Media trusted that our talented team of designers and developers would create a website that members would love and administrators would appreciate due to its smooth, efficient publishing features. Our CMS provides admins the ability to promote public, private and member-only content, which is filtered and fed live into the appropriate areas of the website automatically.
Recognizing the Value of Good Corporate Behavior
Every year, 3BL Forum hosts a major annual conference to recognize all of its members and to share the real value that comes from good corporate behavior. In 2017, we updated the 3BL Forum website, formally known as Commit!Forum, into a contemporary conference website. In 2018, we updated both the name and the new company's unified brand.