Services
Corporate Communications Launches a New Resident Website for Home Properties
Home Properties launched a fresh new website for its 42,000+ residents in November 2013. It has a completely new look on the front-end and state-of-the-art technology supporting the back-end. Research was conducted prior to the design and development of the site to understand both the needs of our residents and those of our internal users. This research was critical to the decision to utilize responsive design, allowing our team to truly manage a single website and our residents to access it from their phones, tablets or computers, maintaining our brand identity as it scaled to any device. This was a vast improvement considering the old site (circa 2007) did not support mobile. Other improvements included enhanced imagery throughout, improved navigation providing our residents one-click access to the things they do most (e.g. pay rent, place service requests) and social media integrations where applicable on a property-by-property basis. The result is an extremely useful website that has a fresh, modern look and reflects the essence of the Home Properties brand.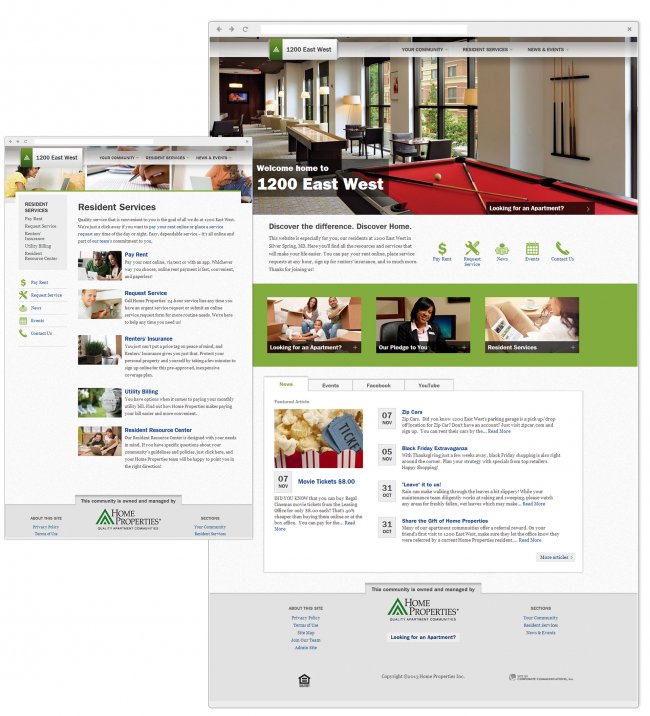 "

Home Properties utilized local talent to design and develop this new website. Corporate Communications, an interactive marketing agency located in Rochester, was the agency we collaborated with for the design and construction, as well as the hosting, of the site. We are very proud and pleased with the results of working with this local, talented team to produce what is truly a world-class website.

"
VP Marketing, Home Properties, Inc.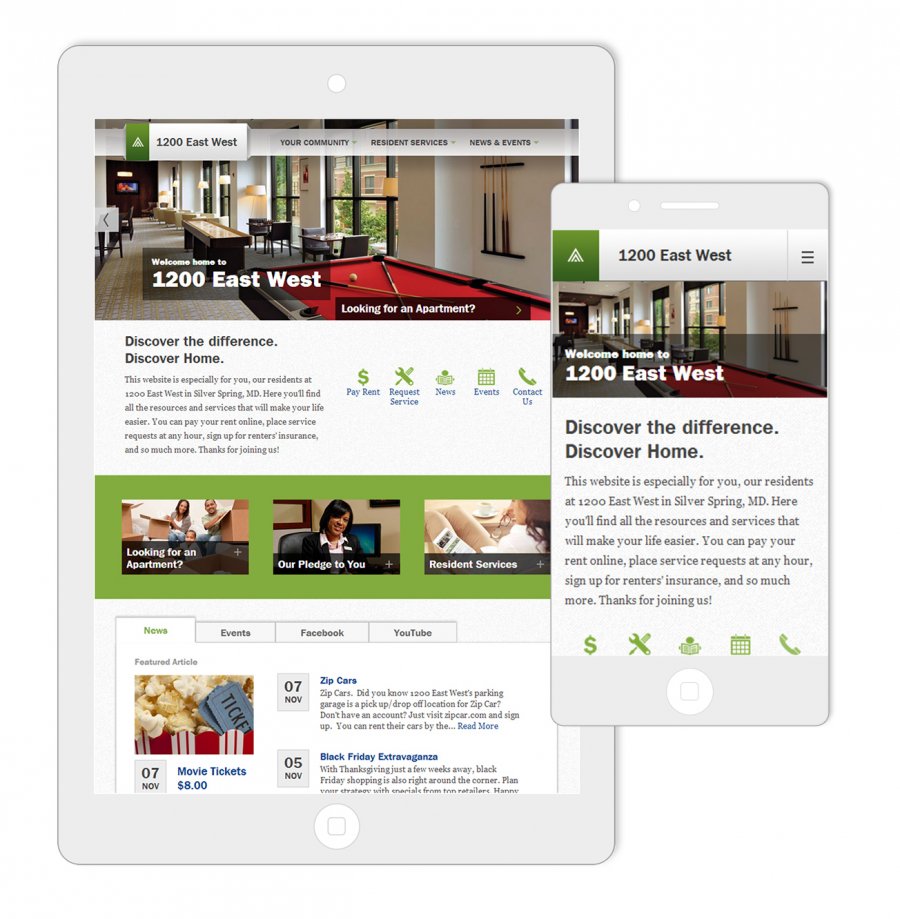 The Purpose of the Website
This website is a support tool for the 119+ apartment communities that Home Properties owns and manages. The primary audience is our residents, however it also serves a secondary audience, our prospects, giving them the ability to see the lifestyle that's offered at our communities. This content marketing strategy is a key differentiator for our industry, as many of our competitors use property management software solutions to serve their resident population, which tend to be lackluster and limited in terms of social media/communication integrations.
Template Design with Customization with a Very Simple CMS
The platform is template driven which enables 119 unique, custom sites from the efficiency of one back-end. While it is centrally operated and maintained, it is extremely easy to use, enabling a population of approximately 200+ internal users (across our communities; leasing agents and property managers who are definitely not web developers) to input key local content (news, events, staff bios, local businesses, etc.). Pairing these strengths of our central and local teams has resulted in increased communication between the apartment communities and their residents, a wealth of new eMarketing opportunities and a reduction in the 2014 website maintenance budget due to the increased capabilities which allow non-developers to manage key portions of the site.
Corporate Communications, Inc. collaborated with Home Properties for the design and construction, as well as hosting of the site.