In an effort to help generate the $100 million needed to complete the new Golisano Children's Hospital and major enhancements to the pediatric program, a building naming campaign was launched late in 2011 by the University of Rochester Medical Center. Encouraging donors to make major contributions to a project that has not yet broken ground can be a bit of a challenge. A strategic approach was needed to help donors see the vision and scope of this project, become more engaged, visualize an area they may be interested in supporting, and what their gift would mean to the overall project.

A Nationally Recognized, Naming Opportunities
Website / Application
We developed an engaging, interactive virtual tour and naming opportunities website which highlighted the range of naming opportunities available throughout the construction. Each floor is mapped with an interactive rollover reveal area with the details of this naming opportunity. Prospective donors with see an image of what the space is used for, a text description that provides related detail about the space, the gift amount, and if it is available.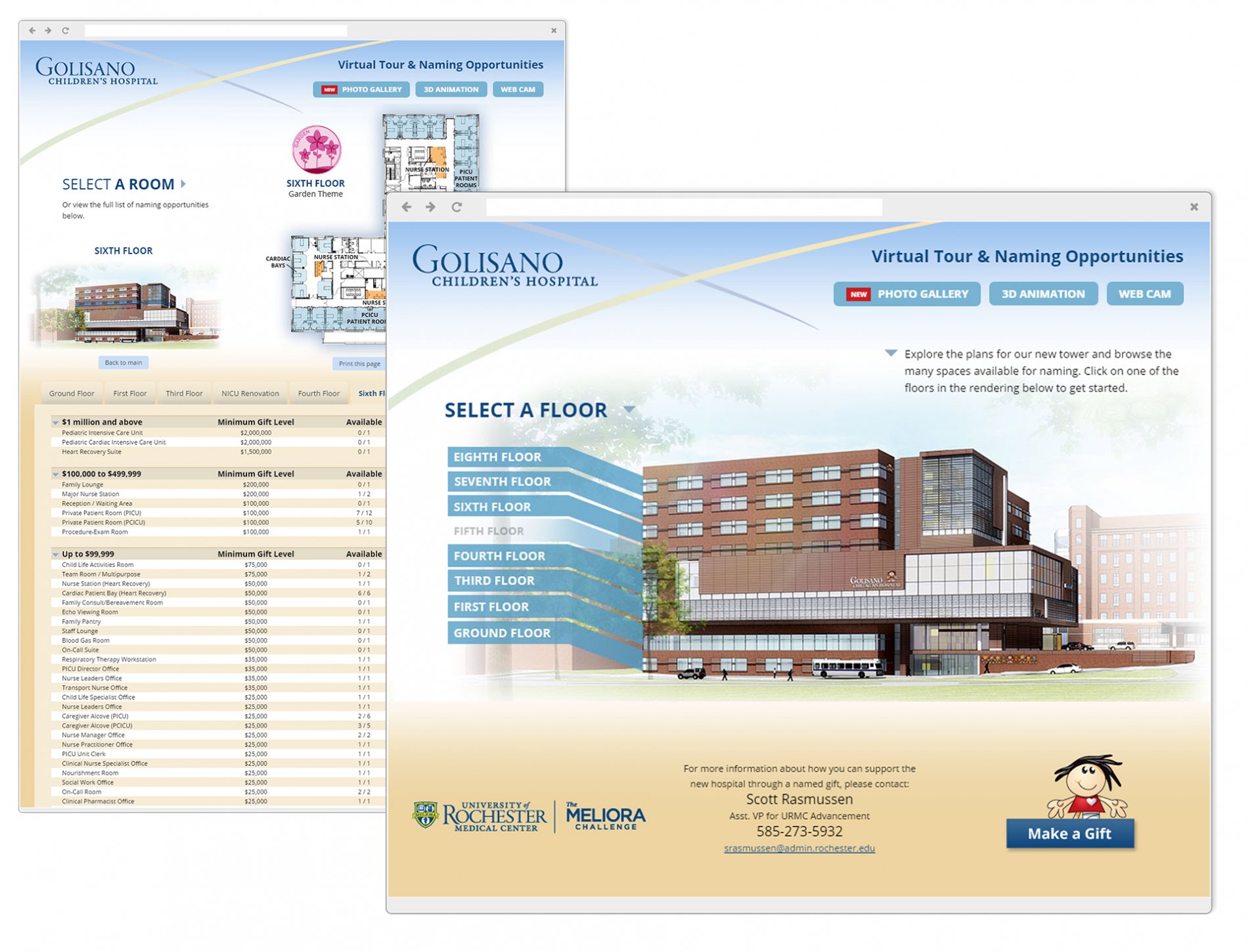 The excerpt on the right is from the national trade publication, The Chronicle of Philanthropy. They featured our project and interviewed the Assistant VP of Advancement for Golisano Children's Hospital, Scott Rasmussen about this website. His comments were used in the article's summary conclusion, Results Speak. Scott Rasmussen is very proud of his Virtual Tour & Naming Opportunities Website and the financial goals they have achieved.
"Right on the phone, people will say, "Oh, I like that; I'll take it."
-Scott Rasmussen, Golisano Children's Hospital
Clean Open Floor Plan View
To keep the Floor display clean and easy to navigate to the naming opportunities, the Golisano Children's Hospital team agreed it would be better to have multiple gifts, show once, and as naming opportunities were taken it would be reflected as 2 of 5 Available, even though our backend CMS was recording each gift individually.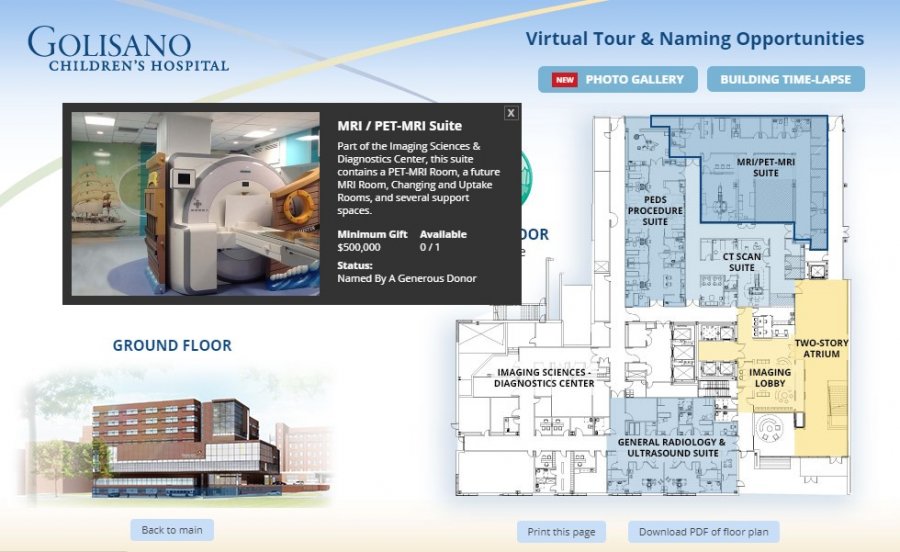 The "Table View" Naming Opportunities
For the Golisano Children's Naming Opportunity website, we had an interactive rollover reveal on premium spaces, but it also had a corresponding highlighted interactive table view of that gift as well.
The table view also provided URMC with a Table View Only gift category. This provided visibility and recognition for many lower-priced gifts. The bonus with Table View Only gifts, they helped raise more funds for the financial goal, without cluttering up the premium floor plan naming opportunities views.
An Automated "Follow-Up" Branded, HTML Email
Today we offer Gift Officers an automated Follow-Up email response following their conversation with a donor prospect. Most people cannot make a $250,000 decision over the phone. This gives the donor a reminder email of what they looked at, a little bit about it, and the gift level. It also gives the Gift Officer a reminder of what was discussed with who, when. With just a few clicks from the admin, they can send these attractive, branded emails to their prospects.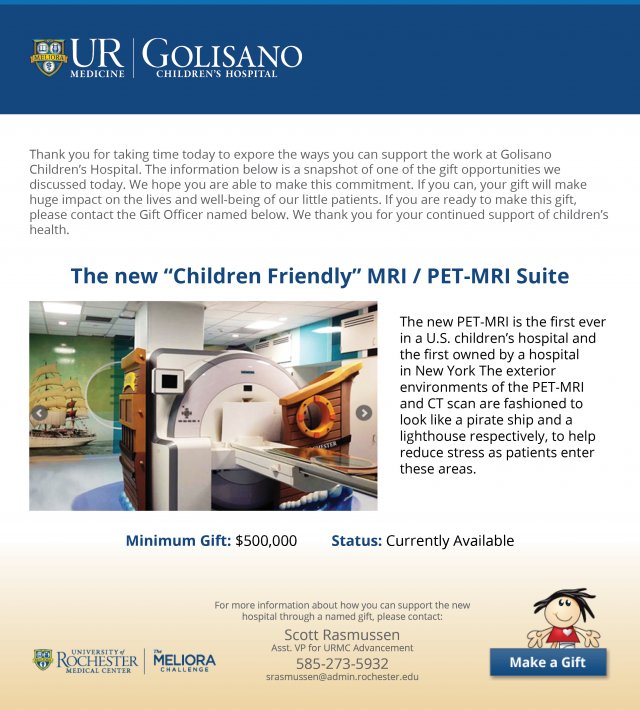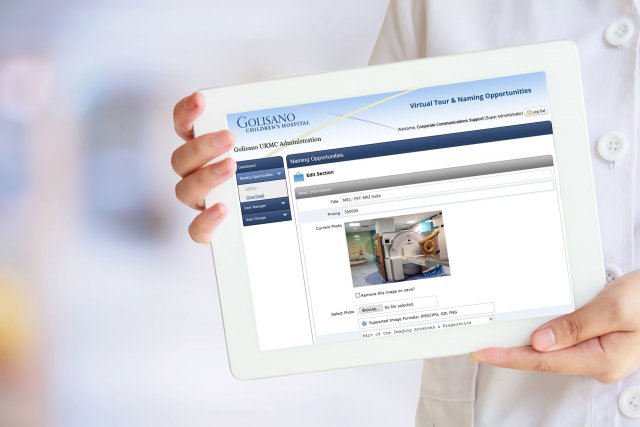 Custom Content Management System
A custom website Content Management System (CMS) allows the Golisano Children's Hospital website management team to maintain naming opportunities details. The simple interface provides a quick download of areas as well as donor details. Additionally, the interactive tour was developed to be completely mobile-compliant, functioning perfectly on mobile devices including iPhones and iPads running the iOS operating system.