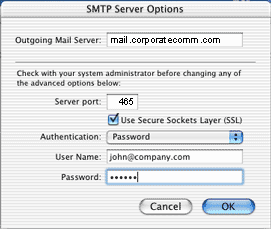 7. After clicking "Add Server..." a new window for SMTP Server Options will appear. Under Outgoing Mail Server, enter the mail server name located in your account sheet (ie, mail.corporatecomm.com).
- Server port - Change to 465
- Use Secure Sockets Layer - Make sure this is checked
- Authenticiation - select Password
- User Name - your Corporate Communications email address
- Password - your Corporate Communications account password
When done, click OK.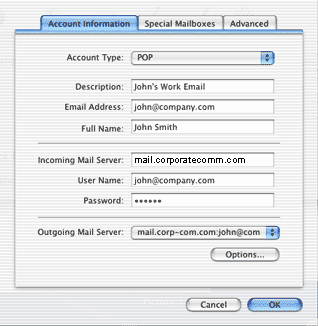 8. The new info you just entered should now show as the Outgoing Mail Server. Click OK.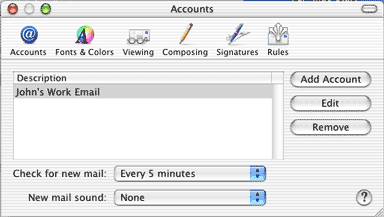 9. In the Accounts window, your Corporate Communications mail account should now show under the descriptive name you gave it previously (Part I - Step 3).
If you need to edit its settings at any time, just return to this window, select the account, and click Edit. You can close this window and start using your email now!