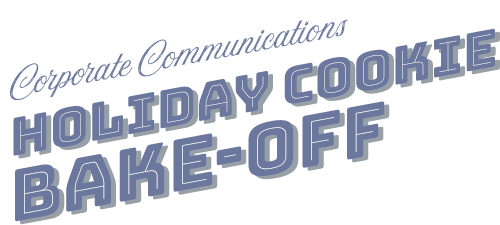 2020 was… a lot. Because it's been such a difficult year for everyone, we realized the importance of actually taking some time to do things that are enjoyable, fun, and engaging. For us, that meant having a friendly baking competition with a virtual twist.
The best part about a virtual cooking competition? You can just lie and say everything tasted delicious. So, trust us when we say that all of these cookies came out great and tasted delicious!
Without further ado… We present to you…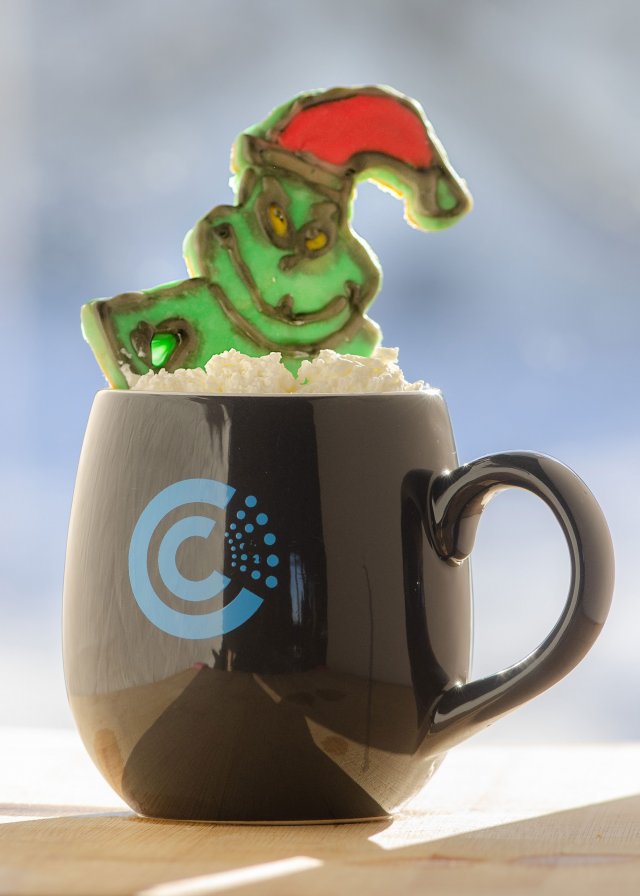 The 2020 Corporate Communications Virtual Holiday Cookie Bake-Off Extravaganza Challenge:
First up in the 2020 Corporate Communications Virt… let's just call it the Virtual Bake-Off. First up in the Virtual Bake-Off: Shaun!
Peanut Butter Blossom Cookies
by Shaun Bamford
Shaun decided to go with Betty Crocker's Classic Peanut Butter Blossom Cookies! He also went above and beyond and constructed a fun and delicious-looking gingerbread house, putting him in an early lead.
For both cookie creations, he started with about 50 Hershey's Kisses! He made the dough balls, baked them, and placed 36 chocolate kisses in the middle -- YUM!
For the gingerbread house, he fortified the house walls, added the creamy housing fixtures, and then covered the home in mints, M&Ms, kisses, and chocolate reindeer, of course! Great job, Shaun.
10/10!
Check out the recipe Shaun used from Betty Crocker below: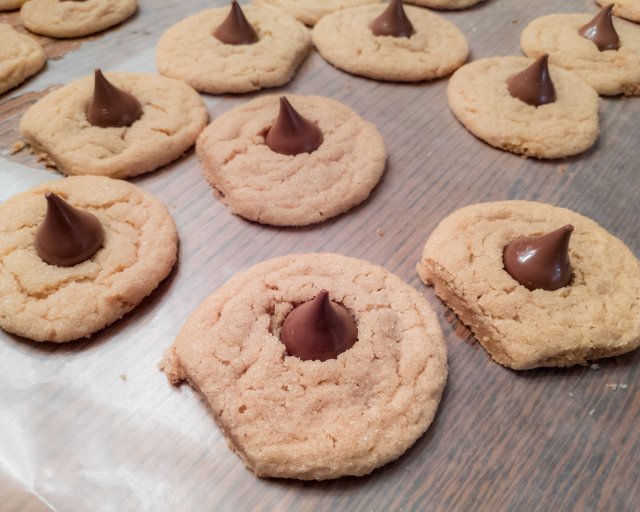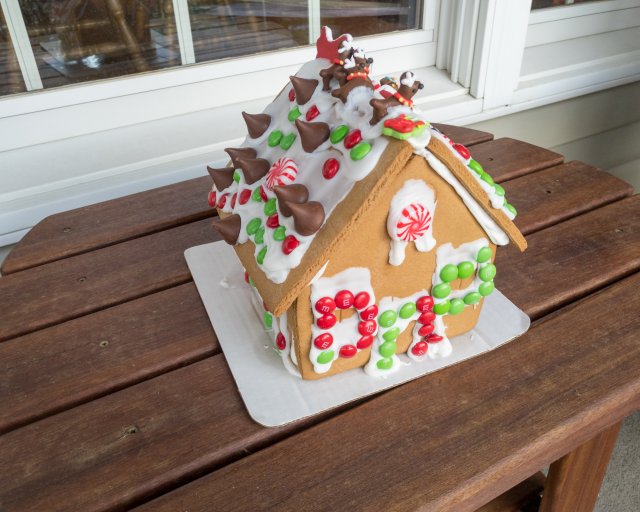 Chocolate Crinkle-Top Cookies
By Bethany Dudek
Bethany decided to make some Nestle Chocolate Crinkle-Top Cookies and they came out looking perfect!
She mixed all that chocolaty deliciousness in a bowl; mixed all the egg, butter, flour, and other flavors into another bowl; beat them all together; shaped the dough into balls that she rolled around in powdered sugar; and got to baking!
Powdered sugar on top and melted chocolate in the middle -- that is a winning strategy for any food. Awesome job, Bethany!
5 STARS!
Check out her Chocolate Crinkle Cookie recipe below: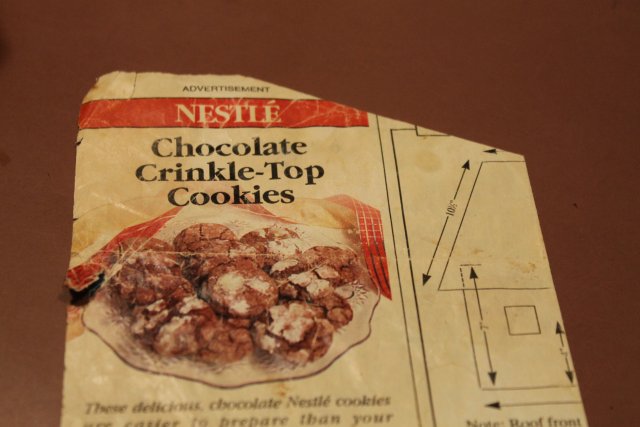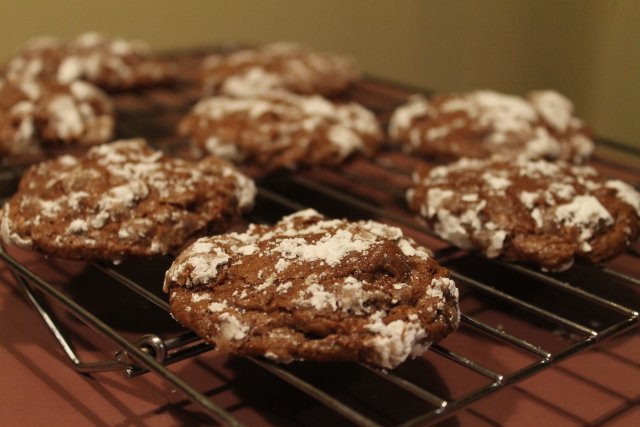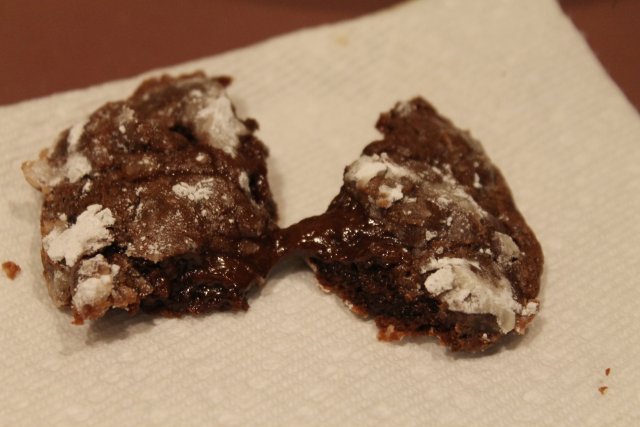 Chocolate Chip Cookies
by Sean Finucane
Admittedly, Sean needed some help with his Chocolate Chip Cookies from Tasty.
It wasn't because he didn't know what he was doing, but because he didn't know what he was doing AND wanted to avoid a massive kitchen fire.
Although everyone was full after sneaking hundreds of chocolate chips throughout the baking process, 8 hands certainly got the job done!
The cookies were FANTASTIC. So soft, so chocolatey, and so so tasty!
...the 2nd batch at least.
The 1st batch was very burnt, very hard, and very thrown in the trash.
GOLD MEDAL!
Take a look at Tasty's Chocolate Chip Cookie recipe: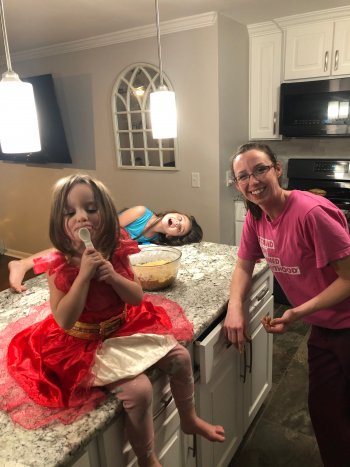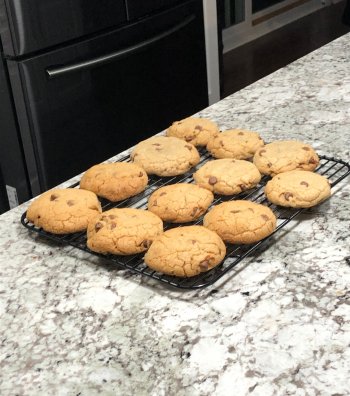 Peanut Butter Blossom Cookies v.2
by Elissa Mitchell
Up next in our Virtual Bake-Off is Elissa and another batch of mouthwatering Peanut Butter Blossom Cookies!
These look terrific and we want to eat all of them.
She even added some tiny red and green sprinkles for a festive touch -- nice!
20 THUMBS UP!
Click here to see the recipe again --> Peanut Butter Blossoms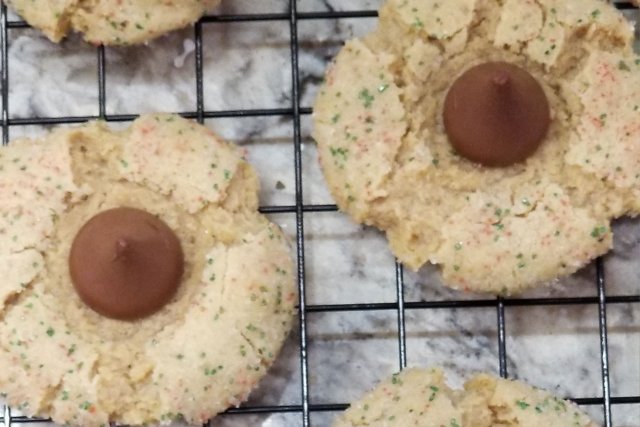 Peanut Butter Cup Cookies
by Bren Jobe
The Jobe family went with some Reese's Peanut Butter Cup Cookies and they look delicious!
Bren might've required a little bit of cookie coaching, as well. But the result was a bunch of great-looking treats!
Also, according to Bren, his cookies "actually taste pretty darn good."
BAKING LEVEL: PRO!
Here is the PB Cup Cookie recipe: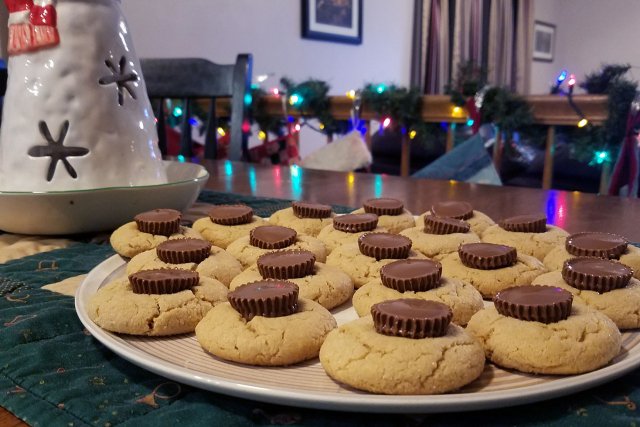 Ingredients
1 and 1/4 cups (160g) all-purpose flour (spoon & leveled)
1/2 cup (115g) unsalted butter (softened to room temperature)
1/2 cup (103g) packed light or dark brown sugar
1/4 cup (50g) granulated sugar
3/4 cup (185g) creamy peanut butter*
1 large egg, at room temperature*
1 teaspoon pure vanilla extract
Topping
1/4 cup granulated sugar (for rolling, optional)
24 Reese's Miniature Peanut Butter Cups (unwrapped)
Instructions
1. Whisk the flour, baking soda, and salt together in a medium bowl. Set aside.
2. In a large bowl using a hand-held mixer or stand mixer with paddle attachment, cream the butter, brown sugar, and granulated sugar together on medium speed until combined. On low speed, beat in the peanut butter, egg, and vanilla extract. Turn the mixer up to high and beat until light in color and smooth, about 1-2 minutes. Scrape down the sides and up the bottom of the bowl with a rubber spatula as needed. On low speed, slowly pour in the dry ingredients. Mix until combined.
3. Chilling is recommended, so cookie dough doesn't overspread when baking. Cover tightly and chill the cookie dough for at least 1 hour.

4. Preheat the oven to 350°F (177°C). Line two large baking sheets with parchment paper or use silicone baking mats.
5. Remove cookie dough from the refrigerator. Pour extra 1/4 cup granulated sugar for the topping in a bowl. Measure the chilled cookie dough into ~1.5 tablespoons each. Ball and roll in the granulated sugar then arrange 3 inches apart on the baking sheets.
6. Bake for 10 minutes. Cookies should still be a little soft when you remove them from the oven. Working carefully and quickly, press 1 peanut butter cup into the center of each cookie. Some of the peanut butter cups might melt a little and others tend to disappear during this process... it happens.
7. Let them cool and set... then enjoy some peanut buttery and chocolate deliciousness!
Grinch Sugar Cookies
By A.J. Verrioli
A.J. created perhaps the coolest-looking, most festive, and greenest cookies in the entire competition.
Definitely the most Grinch-like.
100 HIGH FIVES!
Check out the recipe for his Grinch (and tree) Sugar Cookies below: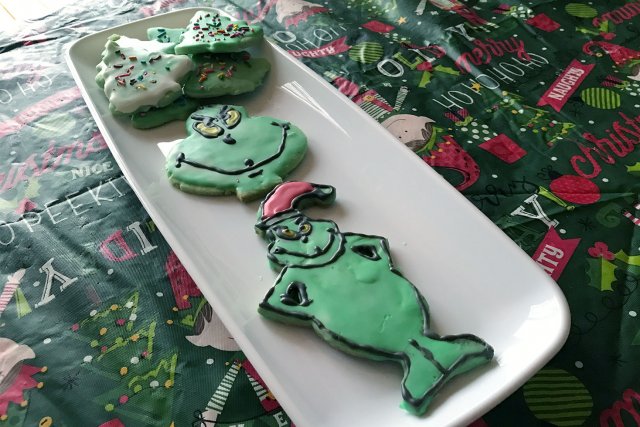 Ingredients
1 cup butter, softened
1/2 cup coconut oil or shortening
1 cup sugar
2 eggs
1 Tsp almond extract
1/2 Tsp vanilla extract
4 cups cake flour
1/2 tsp baking powder
1/2 tsp salt
green food coloring
Icing
3 cups powdered sugar
1 tsp vanilla extract
3-4 Tbs milk
Instructions
1. In a large bowl, cream the butter, coconut oil and sugar until light and fluffy. Beat in eggs, food coloring and extracts. Combine the flour, baking powder and salt; gradually add to creamed mixture and mix well.
2. Divide dough into thirds; flatten each portion into a circle. Wrap each portion into a circle. Wrap each in plastic wrap; refrigerate for 2 hours or until easy to handle.
3. On a lightly floured surface, roll out one portion into a 1/8 inch thickness. Cut with a floured cookie cutter. For custom grinch, place rolled out dough in the fridge until more solid. Draw Grinch shapes out an piece of paper. Cut out with scissors and cover with non-stick spray. Use as a template and hand-cut the cookies.
4. Bake at 375 deg for 8-10 minutes. Cool on wire racks.
5. In a small bowl, beat the powdered sugar, vanilla and enough milk to achieve desired consistency. Tint to green. Dip into icing.
No-Bake Crispy Chocolate Peanut Butter Balls
By Matt Mitchell
Last up in our Holiday Bake-Off, our fearless leader Matt made some No-Bake Crispy Chocolate Peanut Butter Balls. No-Bake doesn't disqualify Matt from this Bake-Off, but he's on thin icing (...ha!).
Great job, Matt - these cookies look as appetizing as they are unhealthy!
Rice Krispies, powdered sugar, creamy peanut butter, and chocolate?
YES PLEASE!
50 POINTS!
Crispy Chocolate PB Balls recipe: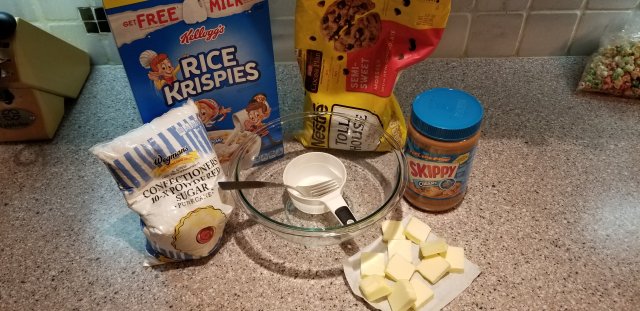 Ingredients
½ cup butter, softened
2 cups creamy peanut butter
3 cups powdered sugar
3 cups crispy rice cereal, more for garnish
2 cups chocolate chunk, preferably dark, for coating
Instructions
1. In a large microwave-safe bowl, add the butter and peanut butter. Microwave for 1 minute.
2. Using a fork, stir together the melted butter and peanut butter until smooth. Microwave additional 20 seconds, as needed.
3. Add the powdered sugar and rice cereal to the bowl. Gently mix together until fully incorporated.
4. Using your hands, roll the mixture into approximately 30-40 1-inch balls (2 ½ cm). Place them on a wax paper-lined baking sheet and freeze for 15 minutes.
5. In a small microwave-safe bowl, add the chocolate chunks. Microwave for 60-75 seconds, stopping to check and stir every 30 seconds.
6. Drop the frozen balls in the melted chocolate one at a time, use a fork to roll around to ensure an even coating. Place back on a wax paper-lined baking sheet.
7. Garnish with additional rice cereal while the chocolate is still warm. Chill until the chocolate has set.
8. Eat!
Thus concludes the 2020 CCVHCBOEC!
So, who won?
10/10, 5 stars, a gold medal, 20 thumbs up, an official baking level: pro designation, 100 high fives, and 50 points were awarded...
We're currently searching our files for a conversion chart. For now, we'll go with a 7-way tie!
We all had a lot of fun making these cookies and they all tasted great!
Looking forward to next year!