Bethany Dudek, a member of our visual design team, recently collaborated with Hedonist Chocolates, an artisan chocolate shop in the South Wedge of Rochester, to create a Valentine's Day Chocolate Collection. The theme of the collection is "Owl Always Love You" and each chocolate is adorned with one of Dudek's custom owl designs.
Beth's love of letterpress started in 2014 when she was attending Canisus College, majoring in Digital Media Arts. While taking a Literary Publishing Class, she visited the Western NY Book Arts Center to learn more about handset letterpress book printing- a craft that dates back as early as the 15th century. After college, she moved back to Rochester where she interned at a local letterpress company and learned everything she knows today on a 100 year old Vandercook printing press.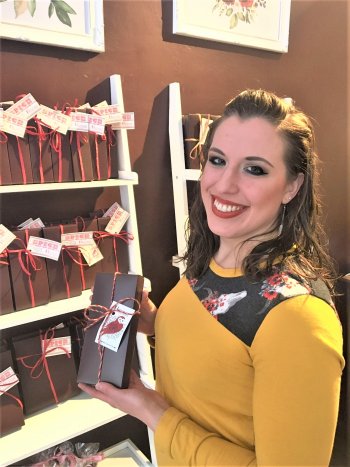 When she saw a post on social media about Hedonist having a contest, she came up with the concept and entered right away. The founders of Hedonist chocolate, Jennifer and Madelyn Posey fell in love with the owls and wanted her to not only design the graphics for the chocolates but also create their Valentine's Day window display. The window display would incorporate the same theme of the chocolate collection: love and owls.
Bethany designed all the materials for the collection and wanted the tag and insert to be letterpressed to express her unique style. Madelyn is also a letterpress printer so she executed the creation of the tags and inserts with Beth's design. "The entire experience with Hedonist was awesome," says Dudek. "They are lovely people and I loved working with fellow creatives in the Rochester community. We really bonded over our love of letterpress."
Bethany's favorite part of the whole process was seeing her creations come to life and being displayed in such a beautiful way. She also enjoyed creating the window display, especially because she was able to be so creative using a different medium than she typically would. Bethany incorporated macrame into the display which she crafted by hand. She wanted to incorporate a more natural element into the design to give more dimension to the display. "I had so much fun with this concept and bringing the designs to life! I am so happy with the way the everything came together and I really hope people enjoy the collection and share it with someone they love."