The importance of customer reviews
There are dozens of factors that go into having a strong local presence: word of mouth around your community, a healthy digital profile, and a product or service that people want to utilize.
Online reviews are a crucial part of not just your digital presence, but your entire business.
According to a PowerReviews 2021 report,
99.9%
of customers read reviews when they are online shopping.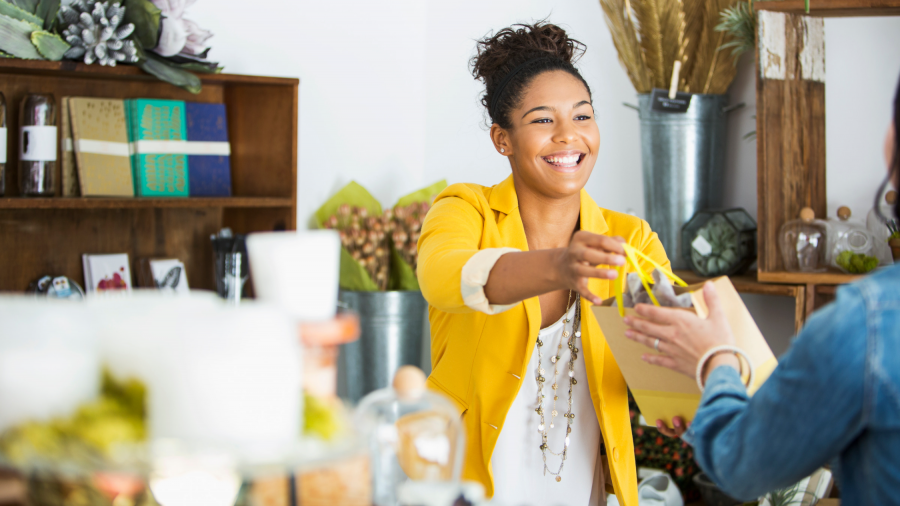 In a perfect world, every time a customer uses your product or pays for your service; all their needs are met, they couldn't be happier, and the first thing they do is run to make a glowing 5-star review of your business.
But... that's not always the case. Stuff happens. And experiences - whether good or bad - aren't discussed online as much as maybe they should be. Luckily, there is no harm in simply asking your valued customers to leave a review.
Reviews matter. Here's why:
Benefits of Asking for Customer Reviews
It might feel a bit awkward the very first time you ask for an online review but soon after that it'll feel as normal as the rest of your follow-up. Your customers will likely appreciate you reaching out and asking for a review. It shows they are valued as a client and that you truly care about their experience.
Here are some additional benefits of asking your customers to leave online reviews:
The way people are talking about your business is just as important as them knowing you even exist. Reviews help build trust and credibility - both vital aspects of branding - within your community and across the digital landscape. Whatever your industry, having positive reviews left on your business, products, services, and your employees makes a remarkable impression to other users.
Local SEO is search engine optimization for local marketing. Reviews - especially Google reviews - are a key ranking factor for local search. Google determines local search rankings based on your company's relevance to a specific search, the proximity of the user performing the search to your business, and your company's online reputation.
Identify areas of improvement
Your company reviews might not all be high-praising, 5-star reviews. You'll likely receive a few customer reviews that point out things you could've done better or potential issues with your company. Don't take this too personally. This can be a good thing, too. It allows you to identify those problem areas and correct them moving forward. Your customers will appreciate that even more.
Identify areas of strength
Similarly, you may receive a handful of website reviews that are highlighting an area of your business that even you didn't think was that strong. These experiences being on display is great news, as well. Use any new insights you gain from these customer reviews and double down on all the positives!
Asking for Customer Reviews
Whenever you have a chance to follow up with satisfied customers, that's a positive opportunity for your business. Send an email, make a call, ask on social media, or even
send a text message
asking your customers to leave a review.
It's best to always make the review process as simple as possible for your customers. Too many steps involved and they'll likely keep pushing it further and further down their to-do list.
Start by creating a
Reviews page
. With a single reviews page, you can easily link to your various review channels: Google reviews, Facebook reviews, Amazon reviews, Tripadvisor, etc. Then just simply identify a few recent customers who you did business with and reach out to them and ask! Let them know it's an easy process, too.
"Hi [name],
I hope you're having a wonderful day! Thanks again for working with us. If you could please head to our Google reviews page and share your experience - we'd really appreciate it!
It'll only take a few minutes of your time - thanks!"
You can ask your clients and social followers to share their experiences by posting a screenshot of a few positive reviews or a truly glowing review. Include the link to your reviews page right in your post.
Interacting with your customers a lot more in person? That's okay! We can help generate a QR code that can be mailed out, handed out at your location, or even hung up on the wall. The QR code just has to be scanned and it'll send them directly to your reviews page! We can help you embed your latest reviews into the sidebar of your website or reviews page, too!
When Should You Ask for Customer Reviews?
You don't want to bother all your customers by constantly asking them to go to your
Google reviews
link and leave a product or company review. You want to ask for customer reviews when the customer is likely to be
most
satisfied. Don't just fire away a reviews request the moment a purchase is made, however. Give them time to actually use your product or service.
Then
ask for the review.
Don't wait too long to ask, though. Make sure you're reaching out and asking for reviews when your customer's experience with you is still relatively fresh. Another helpful tip is to instruct your support team to ask for company reviews after they've resolved any customer issues.
Keep in mind, it's best to avoid offering incentivized reviews, which is when a customer leaves a review only for a certain benefit. Google considers this to be a fake kind of engagement and is against FTC regulations. Incentivized and deceptive reviews can and will be penalized if found. Just be honest with your communication and let your customers do the same.
Responding to Customer Reviews
Always respond to customer reviews. According to Brightlocal's 2023 Local Consumer Review Survey, consumers are more than
twice as likely
to consider doing business with your company if you're taking the time to respond to
all
types of reviews.
When it comes to Google review management and any customer feedback - you should be responding to both the good and the bad.
Responding to a positive review can help show appreciation to your customers and build trust with your clients. Even a simple, "Thank you! We'll see you again soon!" can be a perfect response to a happy customer.
Responding to a negative review is a little more involved but can be even more helpful to your business. Though these reviews can sting, the ability to respond in a kind and compassionate manner gives you the chance to address the issue and show other customers how you handle this kind of feedback.
Responding to both positive and negative reviews gives you the opportunity to humanize your company, demonstrates professionalism, and allows you to show your clients that you truly care.
Reviews aren't just nice to have have, they are a must-have. Customer reviews are essential to decision making for prospective clients and crucial for your brand's reputation. Corporate Communications is here to help get your small business more reviews, optimize your Google Business Profile for local SEO, and get more people in your community talking about your company.
Contact us to get started... and if you're one of our valued customers, leave us a review :)