Search Engine Marketing (SEM) has evolved rapidly over the years. This all-encompassing digital strategy involves everything from keyword research, on-page search engine optimization and analytics tracking to Pay Per Click (PPC) advertising, social media management, and content development. Lots and lots of content. But local SEO is often overlooked as a meaningful approach to digital marketing.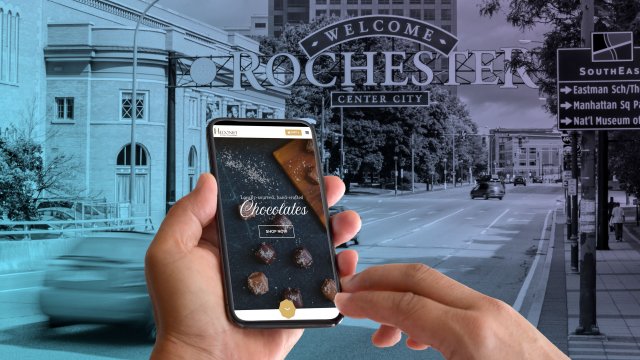 With a strong Local SEO presence, you can provide valuable, optimized information about your business online. Customers aren't rolling the dice and walking into random establishments anymore. They're doing research. And they're doing it quickly. If your business isn't showing up on local results, it's going to be difficult to sustain over the long haul.
Importance of Local SEO
Why is Local SEO important?
Simply put, being able to rank locally on Google and other search engines can — and will — have a direct impact on your business. Having a complete Google My Business profile, an optimized website/content strategy, and focusing on the many
local SEO ranking factors
will lead to great local visibility, which will lead to more foot traffic, and, finally, will lead to more sales. In fact, after local searches on a smartphone, 76% of people end up visiting the business within one day! According to Loganix:
97% of all online searches are from people trying to find a local business.
Improve online visibility and attract more customers
Since Google accounts for 86% of desktop searches and 95% of mobile searches, Google My Business has been crucial in driving customers to a local business. All those searchers are potential customers who would never find your business if you weren't focusing on Local SEO. Instead of having to gain rank on your company's domain name, which can take a while, you'll receive instant local search visibility and attract many more customers.
Reach more people on other platforms
Though Google is certainly the big one, you can list your company in both large and local directories to get relevant citations (an online reference to a business that features the company name, address, and phone number). Yahoo and Bing are still popular and have local business listings through Bing Places for Business, as well. Listings in local directories will only help improve your local relevancy and website authority.
Grow a local following
If you're staying active and implementing a local SEO content strategy, you'll be able to spread brand awareness throughout your community. Only 17% of companies post to Google My Business on a weekly basis. If you share community-specific events and content related to your industry, you'll have a competitive advantage, drive more traffic, and increase your local following.
What happens if you don't have a strong local presence?
If you don't have a Local SEO strategy or neglect to regularly update your information, you will likely lose a lot of potential customers. Similarly, if you're inconsistent with your Local SEO updates, not only will you confuse customers searching for your business, you could be penalized by Google and lose out on visibility.
How Corporate Communications Can Help
We're here to provide you with strategic Local SEO solutions that will help your business right away. Our Local SEO experts know how valuable Google My Business and local search is for small businesses. Let us know how we can help you grow!
Local SEO: More visibility, more digital traffic, more physical traffic, and more sales!