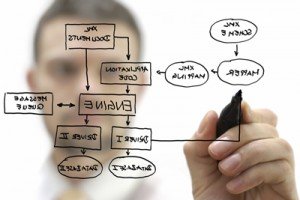 7 Great Ways Your Website Can Take On Business Functionality

A professional design and driving traffic to your website are key ingredients in building an effective web presence, but it doesn't end there. Thinking beyond the standard website design requires a more in depth look at the overall workflow of your business operation and how you can offer a better experience for your new prospects and loyal customers. Developing better ways to interact with your customers or internal departments with custom online applications, will enhance the efficiency of your business, increase profitability, and put you ahead of the competition.

Whether you are just getting started or you've had your website online for a while now, rethinking your approach to website functionality will yield a better return of this investment. Companies that invest their web strategy budget in smart online features and functionality turn their website into an asset instead of an expense. Here are 7 great ideas to introduce business functions into your website.

1. Blogs / Forums / Community Building - Implement a method for your customers to provide valuable input and feedback to help guide the improvement and growth of your business. A blog is also one of the better ways to improve your Search Engine Optimization (SEO).

2. Careers / Job Application Manager - Integrate ways to streamline the process of receiving, tracking and communicating with potential job applicants and candidates. This will help you cast a larger net for better candidates.

3. Client Access - Create an custom online environment that gives your clients the necessary tools to efficiently interact with your business for common tasks and requests for your products and/or services.

4. Online Presentations / Tutorials - Today's customers tend to avoid the sales process. To get under their radar, incorporate videos or presentations into your website. It allows you to highlight the key features and benefits of your services, introduce new products, provide how-tos, etc.

5. Online Demos / Product Tours - Provide ways for your visitors to 'kick the tires' of your products and/or services when they are doing research for their purchasing decisions. Anytime access let's them explore on their time, at their convenience.

6. Interactive Calculators / Comparison tools - Tools like these create repeat visits, and you'll also be recognized as a resource location by including methods for users to 'do their homework' and produce case evidence for decision makers to build the confidence needed for converting them.

7. Intranet - Develop an internal website / system customized to your business for posting resources, company policy, streamlining internal processes, enhancing productivity and improving the way your business communicates. Centralized, simple, world-wide accessibility makes this a much more lucrative method for delivering and distributing company information.

Features such as these make your web presence and overall web strategy a more valuable tool and will help give you an edge over competitors who don't offer these options. Not only will these enhancements move you in the right direction toward successfully converting more prospects, they can also improve your bottom line by creating better efficiencies for the way you manage your business.