Everyone is challenged right now to compete, and in many cases just survive. Corporate Communications wants to help you through this time with some professional advice – outlining our 5 proven Digital Marketing Strategies that could significantly impact your sales, without a huge impact on your budget. Some of these marketing tactics you can do yourself with a little studying and research, others, you may want our help with, and we are here to have that conversation.
1. Local SEO -
The lowest cost and fastest way to a page 1 listing!
Quickest Path & Lowest Cost. Local SEO will give you a 1st-page listing.
Google is Prioritizing Local. Google is responding to search requests for local listings.
Local SEO Example. On top of page 1, Google search results feature a

local

listing block, as shown on the right.
Everything is going mobile. 81% of mobile searches are acted on.
Consumer behavior has shifted to local. They research online and then head out to a local store within 1 hr.
Outstanding ROI. Probably the most "budget-friendly" thing you can do!
120+ Search Engines & Listings. Your information is supplied to all these, with Local SEO.
Add Google My Business. You can do this! Get showcased on page 1, when they search for your business.
2. Email Marketing -
Still the #1 Outbound Communication!
Very Affordable. Email Marketing is one of the lowest cost, digital marketing communication strategies.
Incredible Coverage. Mobile email is driving a 54% engagement rate, and is trending up.
Outstanding ROI. Average monthly $45 – 5,000 emails, just one response will give you a great ROI.
Targeted Marketing.

O

utbound communication, directly to your customers & prospects Inbox.
Highly Effective. Email links are one of the best

i

nbound marketing strategies to grow website traffic.
Easy to Measure the Results. Email analytics can tell you how many opened it, who opened it and how many clicked thru to your website.
Email List Segmentation. Send specific email messages to targeted contacts, new prospects, existing customers & more.
Corporate Communications is a Constant Contact provider!
3. SEO Basics
- Pg.1 is the goal -You can do things to improve your rankings!
Keyword Research. Update your keywords to the terms that have been searched on recently.
Keyword Content Update. Understand and tailor content to what prospects are searching on.
Competitor Keywords. Leverage the terms your competitor has success with.
Learn Analytics Basics. You will discover: how many people came to your website, your most successful keywords, and your most popular pages.
Leverage Analytic Data. This information insight from Google Analytics will help you in all your marketing efforts.
Voice Actuated Search. Google is focused on mobile searchers, now 61% of all searches! Consider using great long-tail keyword content. ("Best-Italian-Restaurant-in-the-Finger-Lakes")
Page Descriptions Are Key. Google search page results feature important info from your page. Your page description helps Google identify your page and displays your description so visitors know what they will get.
4. Lead Generation
– Website intelligence, develops warm leads!
Discover Who Is Looking at Your Website. Many visitors hit your website every day. Without a form submission, you'll never know who it was. Website monitoring can show you WHO!
These Are Warm Leads. Your sales team will love these. Reduce the less productive time of cold calling.
Quietly Leveraging the Data. Reach out to these warm leads, let them know you do this type of work and would love to provide a quote if they ever need it.
Targeting Your Conversations. Since you saw exactly what pages they looked at, you can start a conversation with exactly what they were interested in.
Email Intelligence. Sending emails, unless they reply, you never really know what happened once you hit SEND. Send one through monitoring software and see definitively if they read it, and if they looked at anything else, once they opened it.
An Amazing ROI. What is one good customer acquisition worth to you?
Corporate Communications can set up this monitoring for $195 per month.
See who hit your website!

See the pages they looked at!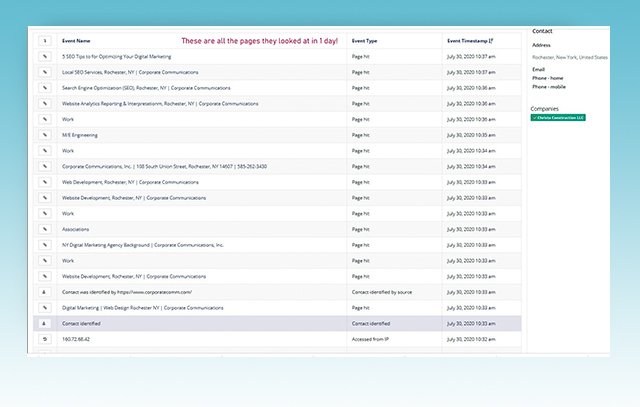 5. Social Media Strategy
– Branded page, postings, and targeted paid ads!
Create a Branded Company Page. Be branded across all social media platforms. Promote your business on these channels – Facebook, LinkedIn, Instagram. Post to engage prospects and bring them to your website.
Solicit Followers. Followers will get your posts. This is great outbound communication and the 2nd most effective way to increase traffic to your website.
Use Facebook PUSH Posts. This ensures all your followers see that particular post.
Facebook Paid Ads Reach 500% More. Organic posts reach 5.1%, Using Facebook's low-cost targeted ads will achieve a 28.1% total reach.
Enhances Brand Interest. 58% said they became more interested in a brand after seeing it on Facebook.
Use Linkedin. 89% of B2B marketers use LinkedIn for lead generation.
LinkedIn Targeted Ad. You can be very specific on demographic targeting. While more expensive than Facebook, it is 28% less than Google Ads and more targeted to business professionals.
YouTube is the 2nd Most Visited Website. Create a company channel. 80% of people who watched a YouTube video did it as part of their buying journey.
Let's Talk About It!
These are great marketing tactics for 2022.
Fill out the form below so we can set up a time.