Creating Value Through Brand Awareness
Remanufacturing Industries Council (RIC) was formed to provide a common platform and a unified voice on reman issues and challenges. They needed a professional, contemporary looking website that would give them a stronger identity and build credibility for their mission. Their main challenge was that many of the existing members and target prospects were already involved with other associations in the industry, so they needed to see an adequate value to justify maintaining membership or becoming a new member of the organization.

Corporate Communications was selected to help RIC identify and develop their brand. A series of branding workshops and customer assessment focus groups were conducted to accomplish that. The goal was to better define the promise that the council fulfills for its members and highlight the differentiation that RIC can offer over other memberships.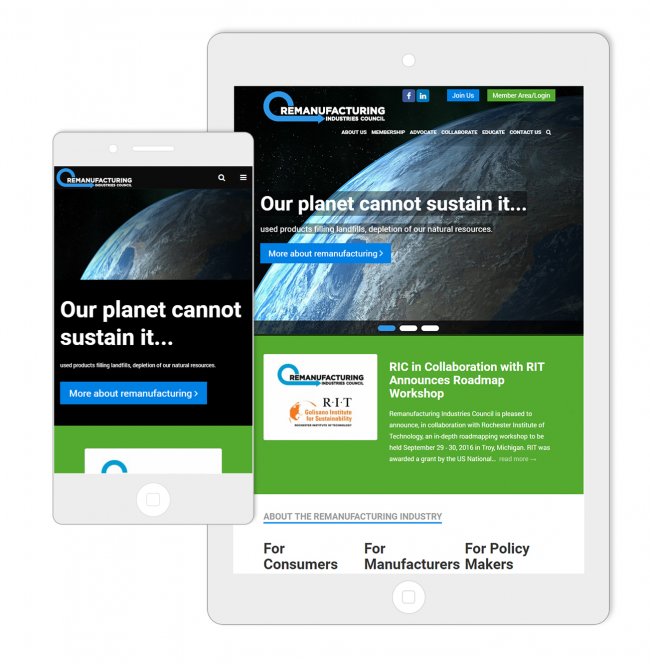 "This is the kind of marketing we should be doing!"
- Nabil Nasir, Provost of the Sustainability Institute at RIT, Rochester Institute of Technology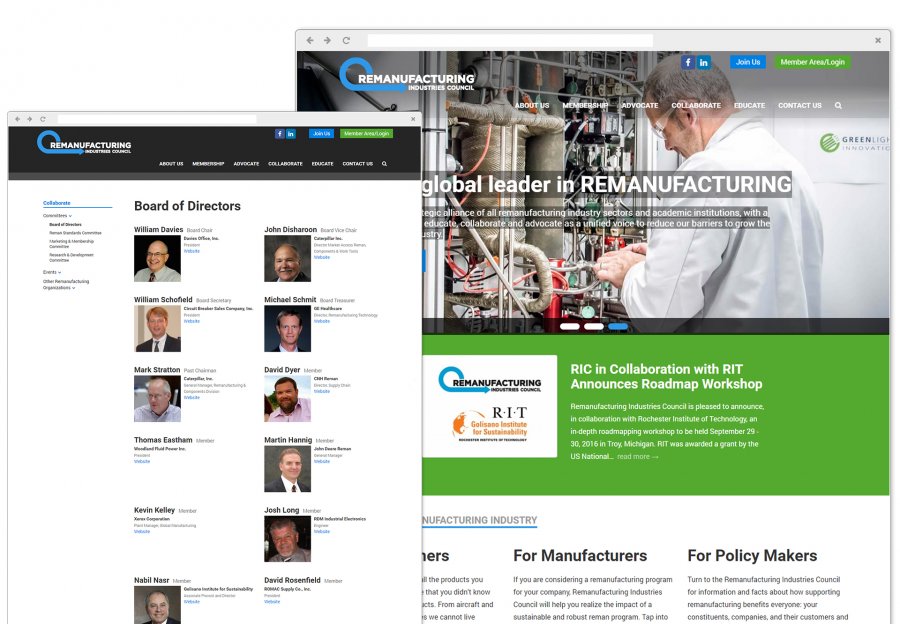 Taking the Lead
Remanufacturing Industries Council website needed focus and direction. Once we identified the challenges that companies in the remanufacturing sector face, we could develop a website that highlights solutions to these issues, provide easy access to important information members and other visitors need and research studies from their strategic alliance with RIT. We also implemented additional features and functionality on their website required to enhance the value of membership. Now RIC has more flexibility and room to grow into this new website as the membership volume increases.
Advocate, Collaborate and Educate
The overarching principles of Advocate, Collaborate and Educate to three distinctive audiences was the result of this work. The website was built as an information portal to provide easy access to this information and by doing that, they would be showcasing their member benefits.
Brand Identity Design
Once we had a solid framework defined for RIC's brand, we provided further guidance to finalize the logo artwork as well as establish some standards and guidelines for the new identity design. Providing direction for key messaging, related imagery and maintaining a consistent color palette across all of their marketing communications gave them the polished look and feel they needed to enhance the credibility of the association.